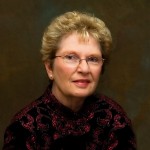 Alda Jeannine Ruscelli, 75, passed away on June 27, 2014 at her home in Nassau Bay, Texas.  Jeannine (affectionately called "Nene" by family members) was born on September 16, 1938 in Corpus Christi, Texas, to Roy W. and Alda M. Klett.
She is survived by her husband, Dr. Vincent Ruscelli, Jr.; sons Vincent Alfred Ruscelli (Beth) and Roy Anthony Ruscelli; daughter, Laura Marie Ruscelli-Alper; sister, Margaret Ann Holly; grandchildren Sophie Angela Alper and Mia Isabelle Ruscelli; and numerous other family members.
Jeannine graduated from W. B. Ray High School and earned an Associate in Arts degree from Del Mar College in Corpus Christi, Texas.  She attended the University of Houston before going to work as office manager for her husband's psychology practice in the Clear Lake, Texas area, a position she held for nearly 40 years.  She had a passion for travel (especially to Italy), cooking (especially Italian food), reading, get-togethers with family and friends, and was an avid University of Houston Cougar fan, she and her husband being long-time season ticket holders to UH football and basketball.
In accordance with Jeannine's wishes, no formal funeral or memorial service will be held, but a small family celebration of her life is being planned.  In lieu of flowers, donations may be made on her behalf in the fight against breast cancer to "Susan G. Komen for the Cure."  Via internet, please search "memorial donations, Susan G. Komen" for ease of donation.