Albert Angelo "Bert" Trotta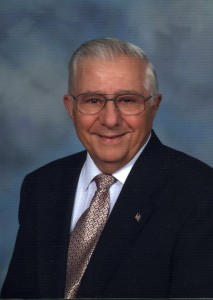 Albert Angelo "Bert" Trotta, 89, resident of Dickinson, Texas passed from this life on Saturday, May 14, 2016 at his home surrounded by his loving family.
Bert was the son of proud parents, Steve Trotta, Sr. and Virginia Rosa Burgoni Trotta, born September 17, 1926 in Houston, Texas. Bert proudly served his country during WWII in the U.S. Navy. He continued his commitment to service by truly serving in his community, he was a member of the Dickinson Rotary Club, the True Cross Men's Club as well as a member of the Dickinson and North Galveston County Chamber of Commerce with his wife and served on the Red Coat Committee welcoming new businesses to the community. Bert was owner and operator of Pines Liquor beginning in 1958 and Mr. T's Doughnuts for many years.  Bert was preceded in death by his, parents and his loving wife of over 55 years, Gloria Jean Scroggins Trotta.
Bert leaves to share his precious memories, a daughter, Linda Carlile Cassano and husband Thomas; sons, Mike Carlile and wife Brenda, Bill Trotta, David Trotta, and John Trotta and wife Heidi; also his sister, Lydia Buckley; as well as eleven grandchildren and three great-grandchildren.
A visitation in his honor will be held Wednesday May 18,2016, at 5:00pm with a Rosary at 7:00 pm in the                  Crowder Funeral Home Chapel, in Dickinson, Texas. A Funeral Mass will be celebrated Thursday, May 19, 2016, 10:30am at Shrine of the True Cross Catholic Church, Dickinson, Texas with interment following at Mt. Olivet Catholic Cemetery, Dickinson, Texas. The family would like to thank Deborah Hagler's caregivers and Season's Hospice staff for their loving care and kindness.