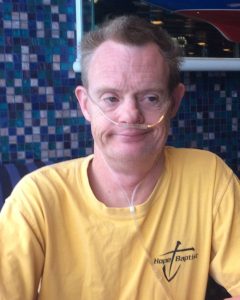 Alan Boykin, 53, a resident of Halletsville, TX for 13 years, passed away May 12, 2023 in Houston, TX. Alan was born July 6, 1969, in Houston, TX. He was formerly of Pearland and was graduate of Pearland High School class of 1991 and was inducted into the basketball hall of fame. He was affectionately known as Coach Al.  Alan was a member of Special Friends in Friendswood and was on the Special Olympics bowling team.
He is preceded in death by his parents, Cecil and Betty Burch; and brother, Bruce Boykin.
Alan leaves behind his brothers: Craig Boykin, wife Mary, and Patrick Boykin, wife Bettina; nieces: Susan Ashley Boykin, Kimberly Boykin; nephews: Joshua Boykin, and Nicholas Boykin.
Funeral service will be held Saturday, June 3, 2023 at 10 a.m. at Crowder Funeral Home in Pearland. Burial to follow at South Park Cemetery in Pearland.
Pallbearers are Patrick Boykin, Craig Boykin, Nicholas Boykin, Richard Mann, Brent Derrick, and Karl Biggs. Honorary pallbearers, Matt Mann, and Clint Mann.
As we all know, Alan was a simple person, please come as you are. Formal attire not required.