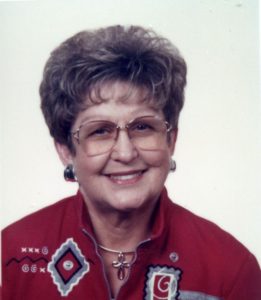 Adrietta Anna King of League City, TX, formerly of Kemah, Dickinson and Texas City passed away on May 19, 2022 at her home.
She was born on June 3, 1930, to Halvor W. and Adrietta Aarnes in Shreveport, Louisiana.
Adrietta graduated from Ball High School as a member of the class of 1947.  During the same year, she married Joe King at the Central Methodist Church in Galveston, TX, where they first met in an adult Sunday school class.  They were happily married for 75 years.  Soon after the Texas City Disaster, she and Joe moved to Texas City where she worked until their first child was born and later became a stay-at-home Mom to their three children.  During that time, she was active in scouting (Cub & Girl) and volunteering at her children's school and church activities.  She joined Memorial Lutheran Church in 1953 where she served over the years on Church Council, Alter Guild and Women of the Church board and taught Sunday school and Vacation bible school.  Additionally, she served as a volunteer for hospice care at Mainland Hospital Auxiliary in Texas City.  Anyone who knew her knew that she loved her family and lived life to the fullest.  She was an amazing Ginny to her grandchildren, and they all loved her.  According to her, she was the "Champion Marble Game Player" (of course she was the only one on the Rule Committee and the rules changed often to her advantage).
After the last child started school, Adrietta went to work for McLain's Inc. in Texas City for 23 years as an office manager. After "retiring," she went to work for Crowder Funeral Home in Dickinson from 1990 through 2021 when she officially retired.
Adrietta and Joe loved to travel and were able to take many trips across the country, and in Europe, with very dear friends and family.
She was preceded in death by her parents, stepfather, Harold Rassmussen, sister, Florence Aarnes, step-brother, Harold O. Rassmussen, and son, Michael "Mike" Joseph King.
Survivors include her loving husband, Joe, daughters, Karen Crowder Martin & husband, Pete and Tracey Carelock Schoppe & husband, Danny.  Also surviving are "Ginny's" precious grandchildren, Kimberlie King Harrell, Dr. Ashley Crowder Parker, Brandon Carelock, Lindsey Carelock, Courtney Carelock, and Aaron Carelock.  Last but not least, her great-grandchildren, Hudson and Cooper Harrell and Hazel Parker. Also, she is survived by numerous step-grandchildren.
In her honor, a visitation will be held 1:00 – 2:00 PM, Monday May 23, 2022, with funeral services at 2:00 PM, at Memorial Lutheran Church, Texas City through Crowder Funeral Home Dickinson.
Memorials may be made to the Galveston County Fair & Rodeo, Mike King Scholarship Fund, P.O. Box 889, Santa Fe, TX  77510.