Orman (O.C. and/or Arnie) Claude Jones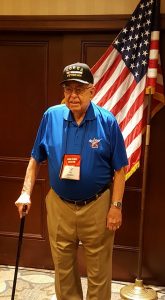 Orman (O.C. and/or Arnie) Claude Jones, went home on January 30, 2017, to be with our Lord and with his loving wife of almost 60 years. We know that he and his wife are rejoicing at being reunited. He was born on May 15, 1929, in Hamlin, Texas. After being a long-time Santa Fe resident, he resided in Brookdale Clear Lake Senior Living Facility his last several years, where he made many new friends and thoroughly enjoyed participating in the social activities and excursions. He was preceded in death by his parents, his wife Lawanda Oneta (Nita) Jones, a sister Wanda Coleen Fly and her husband Howard, a brother J.L. Jones, half-brothers Andy Jones and Jimmy Jones, and step-brother Don Freeman. Survivors are three children, daughter Pam Sweny and husband Mike of Pasadena; son Randy Jones and wife Linda of League City; and daughter Rhonda Jones and partner Diane Ehler of Somerville; seven grandsons, Robert Hamilton and wife Deanna of Santa Fe, Jason Hamilton and wife Paula of Ooltewah, TN, Kevin Hamilton and wife Jennifer of League City, Travis Jones and wife Lisa of Santa Fe, Jason Sweny of Houston, Jeff Sweny and wife Kristina of La Porte, Martin Griffin and wife Nichole of Friendswood; and one granddaughter, Miranda Baum and husband George of Houston; 12 great-grandchildren; and one great-great-grandson; brother-in-law Bobby Colley of Dickinson; sisters-in-law Leona Jones of Texas City, Sandy Jones of Elm Mott, Linda Schoppe and husband Julius of Texas City, and Wynona (Winnie) Newell of Bryan; and many loving nieces and nephews. He served in the U.S. Army during the Korean Conflict, spending most of his time based in Germany. After his discharge, he was employed by Union Carbide in Texas City, where he was promoted to a supervisory position after several years. After 35 years of employment, he retired in 1985. After his retirement, he and his wife enjoyed traveling, going on many, many road trips. Some were as short as going to East Texas to buy onions, while others were to many destinations all over the continental United States, as far away as Alaska. This past September, he was honored to be chosen to participate in the Honor Flight, an honor bestowed on selected veterans. Accompanied by other veterans of war and chaperoned by his daughter Pam Sweny, he was flown to Washington D.C. for two days of being honored with ceremonies and visiting the various monuments and memorials. He stated that it was the trip of a lifetime.
Funeral Service 10am ~ Saturday, February 4, 2017 ~ Crowder Funeral Home  Webster, Texas
Interment Forest Park East, Webster, Texas
Fellowship following interment at  Brookdale Community Center  780 W. Bay Area Blvd.  Webster, TX 77598
Memorials to the charity of your choice.