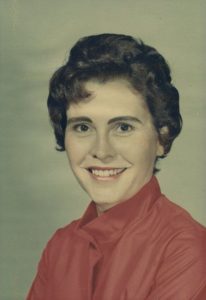 Virginia Koehl Osterman, 85, of League City, TX, passed away January 9, 2017 in Hitchcock, TX.  Virginia was born February 21, 1931 to Irma and Lieb Koehl in Houston, TX.  Virginia was an elementary school teacher and retired from Clear Creek I.S.D. after 36 years of service spending most of that time at League City Elementary.  She was a member of the Episcopal Church in League City and the Retired Teachers Association.  In her spare time, Virginia loved gardening, reading, and her grandchildren's sports activities.  She was preceded in death by her parents and by her beloved husband David Emery Osterman.
Virginia is survived by her son David Henry Osterman and wife Sandy, Brother Wallace Koehl and wife Ramona, grandchildren Nathan Osterman and wife Janae, Clay Osterman and wife Carrie Bass, Tiffany Narum and husband Jeff,  and Casey Faulkner and husband David, and great grandchildren Aiden, Caylee, Denver, Emree, Ashtyn, Felicity, and Stevee.
A visitation in her honor will be held 12:30 – 2:00 pm, Thursday, January 12, 2017,  at Crowder Funeral Home, Dickinson, TX with Graveside services following at 2:30 pm Forest Park East Cemetery, Webster, TX.