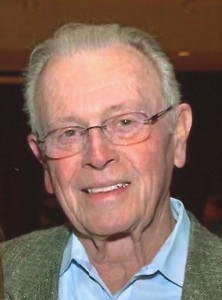 FRANK JOSEPH BIRKENSEHER, age 77 passed away peacefully at home on September 1, 2016, with his loving family (and precious dogs Max and Ollie) at his side. Frank was born to Franz Xavier and Theresa Marie Birkenseher in Jersey City, New Jersey on March 13, 1939. He graduated from Holy Trinity High School in 1958 and enlisted in the United States Air Force before marrying his high school sweetheart, Jeanne Marie Mullen, whom he first met when he was only twelve years old and began dating at the age of fifteen (when Jeanne apparently got over his dipping the ends of her pig-tails in ink).
A veteran of the United States Air Force, Frank proudly served during the Vietnam conflict and throughout his life continued to show his love of country and his gratitude and support for the men and women who dedicated their lives to military service. During his nearly 21 years of service Frank was stationed at Andrews AFB in Maryland, Hahn AB in Germany, Barksdale AFB in Louisiana, and Holloman AFB in New Mexico. Following his military retirement in 1978, Frank moved to Houston (Clear Lake City), Texas where he worked for more than 32 years for ILC, Boeing Aerospace and United Space Alliance supporting the U.S. Space Shuttle program from prior to the first flight through the final flight. He retired for a few months in 2010 but returned to work as a contractor with M & B Engineering supporting the EMU program for NASA and remained employed there until he fell ill in August 2016.
Frank was a loving husband and devoted father and grandfather. He believed in the importance of family and unconditional love. His family was the center of his life and they were always on his mind. Safety check telephone calls and text messages from "Weatherman Frank" were always appreciated. He kept his family entertained with his sense of humor and quick wit. He was charming and friendly and had a wonderful way of making everyone feel welcome. Family time was cherished by all so the Birkenseher home was often filled with laughter, chatter, the sounds of tiny feet and barking dogs. Frank loved attending his grandchildren's sporting events throughout the years and also greatly enjoyed traveling to visit family and long-time friends whenever possible. Though the perfect golf swing escaped him, Frank was an avid golfer and treasured his time on the golf course. He watched the sport on television, read golf magazines and books, marshalled at the Shell Houston Open whenever he could, and cherished the golf trips he took with his buddies.
Frank is survived by his loving wife of 56 years, Jeanne Birkenseher, the children they raised, Michael Birkenseher (Peggi), Patricia Martinez (Chris), Susan Barnes (James), Mary Fishman (George), Sheila Schindler and Alyssa Birkenseher (his beloved granddaughter); his sister Anne Tuzzeo of Ocala, Florida, sister-in-law and brother-in-law, Marilyn and Eugene Nagler of Denton, Texas; his loving grandchildren, Justin Boyd, Matthew Birkenseher (Sudie), Sarah DiMatteo, Megan Fishman, Sean Birkenseher, Niklas Birkenseher, Lauren Martinez, Ethan Barnes, Jordan Barnes, Sarah Martinez and precious great-grandchildren, Kristopher Fishman, Thomas and Rebekah DiMatteo, and Kinley and Kayden Birkenseher; as well as numerous loving family members and lifelong friends whom he considered family.
Frank was loved by many and will be greatly missed, though we know heaven is rejoicing with his arrival. Our special thanks to family and friends who prayed for and visited Frank in his final days, and the many compassionate and loving caregivers in the ICU at Clear Lake Regional Hospital.
Treasured memories will forever remain in the hearts of those who knew and loved Frank. Everyone fortunate enough to know him is welcome to join the family in celebrating his life at any or all of the events planned to honor him.
INURNMENT                                                                                                                                 Friday, September 23, 2016 at 1:30 PM                                                                                 Houston National Cemetery                                                                                                         10410 Veterans Memorial Drive, Houston, TX 77038
FUNERAL MASS *                                                                                                                       Friday, September 23, 2016 at 6:00 PM                                                                                          St. Bernadette Catholic Church at 6:00 PM                                                                                       15500 El Camino Real, Houston, TX 77062
* DINNER in the Parish Life Center will follow the Funeral Mass.
Memorial contributions may be made to the Disabled American Veterans Charitable Trust or the Melanoma Research Foundation .