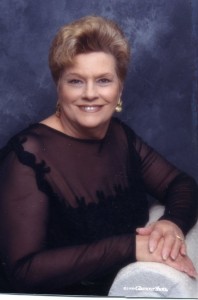 Theresa Adele Auchly, 81, of Dickinson, TX passed away May 10, 2016 in Webster, TX.  Theresa was born September 6, 1934 to Louise and Henry Bene in Mascoutah, Illinois.  Theresa was a loving mother and grandmother. She was a loyal member of  Life Fellowship Church, a sales associate for Weiners Department Store and Dillards, and a well-known member of the community.  She was preceded in death by her parents, her beloved husband of 57 years Eugene Joseph Auchly, sisters Mary, Lorita, Anne, and Margarite, and brothers Edward, John and Henry.
Theresa is survived by her daughters, Barbara Gravitt, Susan Minks, Catherine Bishop and husband Hollis, Sharon Brannen, Carolyn Auchly, Brenda Dudley and husband Kenneth, Terri LeBlanc, and Gerri Gonzales and husband Richard, eighteen grandchildren, sixteen great grandchildren, sisters  Dorothy, Helen, Rose and Florence, brother Paul, and numerous nieces and nephews.
A visitation in her honor will be held 5:00 – 8:00 pm Friday, May 13, 2016 with funeral services 11:00 am, Saturday, May 14, 2016 at Crowder Funeral Home Chapel, Dickinson, Texas. Interment will follow at Mt. Olivet Catholic Cemetery, Dickinson, Texas.