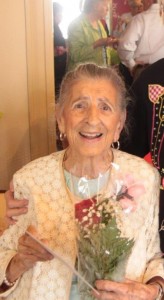 Rose Vassallo Cole, 101, of Galveston, Texas, passed away February 3, 2016 in her home.  Rose was born in Galveston on February 14, 1914 to Rosario Vassallo and Concetta Dimare Vassallo.  An appropriate name for a beautiful baby girl born on Valentine's Day.  She grew up in the midst of a large family including her sister Camille, and five brothers Charles, Vincent, Edward, Harry and Alfred.  Rose attended and graduated from Ball High School.  After graduation she went to work at Union Carbide and later at UTMB where she worked as a secretary in the Physical Therapy Department and eventually in the clinics until she retired.
In 1941 she met and married William Barry Cole. They were married 65 years until his death. Rose and Barry spent retirement volunteering together as well as antiquing, fishing, camping, traveling, and entertaining nieces and nephews.
Although the loss of her husband was heartbreaking, born a tough Texas Italian, Rose even in her nineties remained active.  She served on many boards and committees in her beloved Sacred Heart Church, Friends of Moody Garden, Oleander Club, Wednesday Club, East Enders, and many more.  Her love of gardening, music, reading (listening to books on tape), and her intellectual curiosity were obvious keys to her longevity.  Possibly more so even was her natural ability to connect with other people – people of all walks, ages; everyone and anyone.
She was a lifelong Galvestonian and was a consummate storyteller with an uncanny memory for details of people and events that occurred over the century of her life.
Strong in her faith and thankful to God that he graced her with good health and a loving family, Rose lived her life on her terms – not easy being a girl growing up in an Italian family in the early 1900s.  She is survived by numerous nieces, nephews, and friends.  The family extends a grateful thanks to her loving caretakers, especially Penny Janke.
A visitation in her honor will be held 10:00 am with Funeral Services at 11:00 am, Monday, February 8, 2016 at J. Levy & Termini Funeral Home, Galveston, Texas through the direction of Crowder Funeral Home, Dickinson, Texas.  Interment will follow at Calvary Catholic Cemetery, Galveston, Texas.
Serving as pallbearers are Ross Vassallo, Brian Vassallo, Doug Vassallo, John Vassallo, Larry Keister and Louis Murad.  Honorary pallbearers are Mike Magliolo, and Ralph Murad.
Memorials in Rose's memory may be made to the Galveston Historical Foundation, 2228 Broadway Avenue J, Galveston, TX 77550.