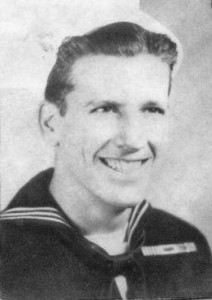 Douglas Orba Bright, Sr., 89, went to be with his heavenly Father on October 26, 2015. Douglas was born on May 29, 1926 in Herpel, Arkansas, but he moved to Galveston, Texas as a toddler. He enjoyed sharing his many memories of growing up and living on the island. Douglas joined the U.S. Navy while just a lad of seventeen. As a Tin Can Sailor, he defended his country during World War II in the South Pacific aboard the Destroyer U.S.S. Laws (DD-558). Upon returning, he worked at the Galveston railroad, the Coco-Cola bottling company and then a full twenty-five years at Monsanto before retiring. Never one for sitting still quietly, he immediately returned to work, first at Singer-Link, a subcontractor for NASA and then at Space Center Houston where his congenial personality was able to shine at it's greatest while he charmed not only his co-workers, but also astronauts, celebrities and visitors from all over the world. He retired from Space Center Houston to rebuild his life after losing his home and most of his possessions during Hurricane Ike. He then devoted his time in caring for and spending time with his sons and wife through the last years of their lives. Douglas was a man of great Christian faith that upheld him during the losses of not only his spouse, but also three of his children. Eagerly sharing his faith with everyone he met, he led many souls to Christ. He was a man that loved people, always with a smile on his face for everyone.
Douglas was preceded in death by his wife of forty-eight years, Wanda Preas Bright; parents, Ernest, Sr. and Alma Bright; his daughter Pamela Mitchell; his sons Michael Bright and Douglas "Dougie" Bright, Jr.; his sisters, Nina Bellard and Shirley Jean Kelly; his brother Ernest Bright Jr. and his sister-in-law Nancye Bright.
Douglas leaves behind to cherish his memory: daughter Carol Surrock and husband Les; daughter Lisa Callaway and husband Reid; daughter Cathy Wesley and husband Hal; daughter-in-law Sherri Bright; brother Kenneth Bright; ten grandchildren, nine great-grandchildren and many more family members and friends.
Funeral services will be held Friday, October 30, 2015 from 2 to 4 pm at Greater Life Church located at 1655 FM 528 Rd, Webster, TX 77598. Visitation will be held from 2 to 3 pm and will be immediately followed with a service celebrating his life from 3 to 4 pm with Rev. Mark Hughes officiating. Interment will follow at Forest Park East, Webster, TX.