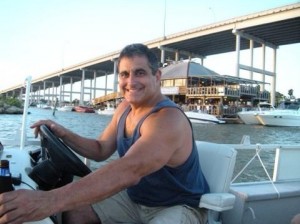 Mark Alec Kantralis, 57, of Santa Fe, Texas passed away on Sunday, May 3, 2015. He was born in Houston, Texas on April 15, 1958 to Alexander and KiKi Kantralis. Mark had been a police officer since 1979 and had worked for the Pasadena Marshall's Office as a Warrant Officer for the last 17 years. He was a member of the National Latino Peace Officers Association and a member of several Houston Livestock Show & Rodeo Committees for 26 years. Mark had a personality that was larger than life; he enjoyed spending time with his family and friends, watching fireworks in Kemah, and buying and selling all things "policeman" on eBay.
He is survived by his, parents; Alexander and KiKi Kantralis, wife; Debora Malin, daughters; Stacy Malin and Courtney Malin, sisters; Pam Immitt and husband Jim and Karen Karagas and husband Mike, brother; Greg Kantralis and wife Anna, his nieces and nephews; Demetri Karagas, Nicholas Karagas, Ally Karagas, Adrian Immitt, Angela Immitt, and Macey Kantralis, and his uncle; Chris Gatzoulas.
A funeral service will be held on Saturday, May 9, 2015 at 6:00pm at the Crowder Funeral Home in Dickinson(851 FM 517 W., Dickinson, Texas 77539) with Rev. David Truncale, Chaplin of the Pasadena Police Department, officiating. In lieu of flowers the family requests donations to be made to the charity of your choice.