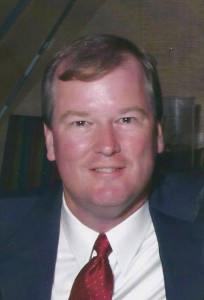 John L. Parkinson, 53, beloved husband, father, son and brother, passed away Jan. 16, 2015 in Friendswood, Texas. He was born Sept. 5, 1961 in Fayetteville, North Carolina, to Samuel C. Parkinson Jr. and Mary Louise Thornton Parkinson.
John is survived by his mother; his wife, Regina Lee Dorman Parkinson of Friendswood; daughter Adrienne Bartley of Friendswood; sons Cameron and Landon Bartley of Rosenberg; brother Sandy Parkinson of Greensboro, N.C.; sisters, Gail Hardie of Charleston, S.C. and Susan Parkinson of Atlanta, GA; sister-in-law, Dana Dorman and partner Cindy Holmes of Lumberton, TX.; nieces Jennifer Williams and Kate Hardie, nephews Drew Parkinson, David Hardie, and Lee Thomas Dorman; and great-nieces Scout Hardie and Harper Williams.  He is also survived by aunts, uncles, cousins, and numerous friends who all loved him dearly.
John took great pride in being a member of the North Carolina State Wolfpack, graduating with a bachelor's degree in chemical engineering in 1984. His career began at 17, as a school bus driver, and the fact that he could be entrusted with that job as a teenager, speaks volumes about who he was: dependable, trustworthy, competent, hard-working, and dedicated to the safety and well-being of others.
His resume includes 30 years of accomplishments in the petro-chemical industry, beginning as a production engineer for Allied-Signal in 1984. He relocated from North Carolina to Orange, Texas where he worked for Chevron Chemical Company. He also held engineering, management, and executive positions with Millennium Petrochemicals, LaPorte, Texas; Lyondell Chemical, Clinton, Iowa; Equistar facilities in LaPorte, Houston and Chocolate Bayou; and Lyondell Basell, Houston. Most recently, he led the development and construction of a state-of-the-art propylene facility in Houston as vice president of manufacturing for Petrologistics in Houston.  He had been working as Maintenance, Reliability Engineering Leader for Ascend Performance Materials in Chocolate Bayou since April 2014.
John was Chairman of the Board for the East Harris County Manufacturers Association, where he was recently named member of the year.  Other leadership positions included Director of the Regional Development Corporation, Clinton, Iowa; Director of the Clinton Chamber of Commerce; Director of the Orange Lions Club; and numerous other positions with United Way drives and various community projects.  His time directing the annual Lions Club Carnival in Orange was a highlight for him.
John's accomplishments were substantial, but his greatest joy was his family. His love, care and support for his wife, children and parents were unsurpassed.   He coached soccer and basketball for many years and never missed a game — Adrienne, Cameron and Landon were his pride and joy.  John was also very proud of his Green Bay Packers and had been a loyal fan since childhood. He also loved the Texans and his sons' alma mater, Texas A&M University.  John was a devoted tennis fan and seeing the French Open in Paris last year, as he and his wife celebrated their 20th wedding anniversary was a highlight. He loved travel, the beach, bird watching, astronomy, movies, Alley Theater and Houston Symphony productions, museums, golf, newspapers and woodworking. He was the number one fan of Regina's art and spent many, many hours building frames for team Aquagirl Art, driving the mini-van and setting up tents and artwork. He was humble, selfless and completely devoted to those he loved and the community at large.
A visitation will be held Tuesday, January 20, 2015 from 6-8 p.m. at Crowder Funeral Home, Webster, TX. A funeral service will follow on Wednesday, January 21 at 2 p.m. at Gloria Dei Lutheran Church, 18220 Upper Bay Road, Nassau Bay, TX, 77058.
A private graveside service will be held at Dorman Cemetery in Orange, TX at a later date.
In lieu of flowers, those wishing to make a memorial donation in John's name may do so to the American Heart Association at www.heart.org, or Orange Lions Club, P.O. Box 1572, Orange, Texas 77631, 409-779-3643.