"Randy" – Randall Kevin Powell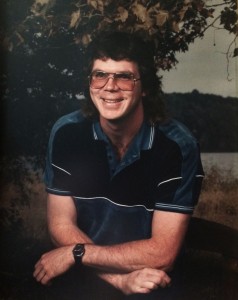 "Randy" – Randall Kevin Powell, 54, of Santa Fe, TX passed from this life on December 26, 2014.
Randy was born in Galveston, TX on October 18, 1960. He graduated from Santa Fe High School in 1979. A member of Junior High Band, and an avid athlete who excelled at baseball throughout all of his high school years.
He was a beloved member of the Santa Fe community. A simple man, who loved the simple things in life. A master carpenter, commercial fisherman, great auto mechanic, and a member of two local country bands were a few of his many accomplishments. He loved and adored his family, friends, studying his Bible, and fishing on the bayou. He was baptized at an early age at Alta Loma First Baptist Church in Santa Fe.
He is preceded in death by his Dad, Wayman "Cloys" Powell, and his brother, Stanley Powell. Randy is survived by his Mom, Melva Joyce Powell, of Santa Fe; Sisters, Debby Powell Hubert and brother-in-law, Glenn Hubert of Wytheville, VA; Donna Powell Curry, of Bacliff, TX; Cheryl Powell Tuttoilmondo, of Dickinson, TX; Niece, Stacy Morris, of Wytheville, VA; Nephews, Eddie Wayne Chatman, of Bacliff, TX; Shawn Curry and wife, Mandy, of Katy, TX; Josh Curry and wife Ashley, of Bacliff, TX; Kevin Curry, of Bacliff, TX; one great niece and numerous great nephews; many beloved cousins.
A visitation with the family will be held at Arcadia First Baptist Church in Santa Fe at 2:00 pm on Monday, January 5, 2015. Memorial services will follow at 3:00 pm.
In lieu of flowers, anyone may feel free to donate to Randy's burial costs fund through PayPal at the following email address: RandyKPowellMemorialFund@gmail.com or at any Texas First Bank in Galveston County. Deposit to account number ending in 7519, in the name of Cheryl Tuttoilmondo.
Interment to follow at a later date at Adams Cemetery, Logan, TX.