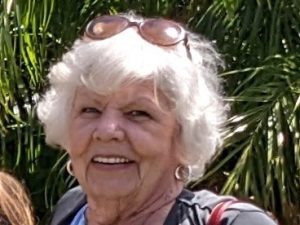 Stephanie C. Thorpe, passed away peacefully on February 23, 2023.  Stephanie was born on March 25, 1943 in New York to Stephen and Clare Chickvary.
She grew up in Connecticut and moved to Texas in the 70's.  She has called Dickinson home for the last 25 years.  Stephanie retired from American National as a Senior Pension Analyst in 2008.
She is preceded in death by her loving  husband, Peter A. Thorpe, her parents and her brother Geoffrey Chickvary.
Stephanie loved spending time with her family and many friends. Her love, honesty, wisdom and laughter will be greatly missed. She was a faithful member of Holy Trinity Episcopal Church and Daughters of the King, Dickinson, TX.
She is survived by her daughter Abigail Thorpe Clary, son-in-law Allan Clary, grandson Adam L.T. Clary along with their extended family, The Antley's, and many cousins and friends.
There will be a Memorial Service and reception to follow on March 11, 2023 held at Holy Trinity Episcopal Church, 4613 Hwy 3, Dickinson, Texas 77539 at 1:00pm with Rev. Stacy Stringer presiding.  In lieu of flowers the family asks that donations be made in Stephanie's memory to: Holy Trinity Episcopal Church and The Daughters of The King, both at 4613 Hwy 3, Dickinson, TX 77539.