Richard Earl Phelps – "Dick"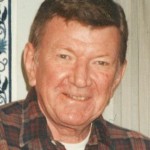 Funeral service and reception will be held at Crowder Funeral Home in Webster, Texas, Wednesday, November 19th at 2:00pm.  Burial services will be held at Houston National Cemetery in Houston, Texas, Thursday, November 20th at 12:30pm. 
Dick was born in Bradford, Pennsylvania to B. Earl Phelps and Pearl Ludwick Phelps and was raised in Cuba, New York.  He is survived by his beautiful, tap-dancing wife of 57 years – Frances (Francy) Phelps, his two daughters – Valerie Phelps Mills and Drusilla (Dru) Phelps, and grandchildren – Jessica Phelps, Kirsten Mills and Michael Mills, Jr., along with a host of extended family and wonderful friends.
He began his career with GTE (now Verizon) in Erie, Pennsylvania and ended in League City, Texas as Vice President/General Manager of the Southwest Region.  He graduated from Cuba High School in New York, received his BA in English from Alfred University in New York and received his MBA from St. Francis University in Pennsylvania.  Dick was always proud of his four-year service in the United States Navy as Storekeeper First Class during the Korean War.  He was a lifetime member of the VFW and the American Legion.  He also was a member of the Masons for 60 years.
All who knew him remember him as a colorful character but probably don't know that during his life he had been a radio announcer, was an actor with the Clear Creek Country Theatre, was a lay preacher for the Episcopal church and had been a volunteer firefighter.  He served as a Judge of Elections for several years, served on the Grand Jury for two years and volunteered for Crime Stoppers.  He also served on the Clear Lake Area Chamber of Commerce Board of Directors.  He counseled Crohn's and colitis patients and also had a weekly Houston radio program during which he read the news for the blind.
Most would remember Dick more for being the owner and ringmaster of "Lit'l Horn Steaks and Saloon" in Webster or managing the visitors center on Sundays at Armand Bayou Nature Center.  Recently he could be seen riding his four-wheel scooter around Brook Forest – much to all our surprise as he was legally blind.
He always had a joke, words of wisdom and something to say about everybody and everything and you know he was always right!!
In lieu of flowers, memorials to Crohn's and Colitis Foundation 5120 Woodway Dr. Suite 8008, Houston, TX 77056 Ph 713-572-2232 or Armand Bayou Nature Center PO Box 58828, Houston TX 77258 Ph 281-474-2551.