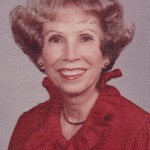 Betty Watkins passed away on Oct. 14, 2014. She was born on Dec. 29, 1924 to Fred H. and Emma Oberndorfer in Galveston, TX. Betty graduated from Ball High School. She worked as an executive secretary. She married her beloved husband of 66 years in July 1948, Raymond J. Watkins. In 1953 she became the executive secretary to Mr. R. P. Doherty Jr. at South Texas Equipment Company for 35 years. Betty spent most of her life being a caregiver to her family and friends.
She is survived by her: loving husband, Raymond J. Watkins; two sisters and a brother, Adele O. McCoy and husband, Lewis J. McCoy, Emily O. MacDonald and husband, Harold C. MacDonald (deceased) and Fred H. Oberndofer, also several nieces, nephews and great nieces and nephews.
Visitation will be held Thursday, Oct. 23, 2014 from 12:00 noon to 1:00 pm. Followed by a Funeral Services at 1:00 pm at Crowder Funeral Home, 111 E. Medical Center Blvd., Webster, TX 77598. Officiating will be Rev. Tony Vinson of Clear Lake United Methodist Church. A private interment will be held at Forest Park Lawndale, Houston, Texas. A reception will be held at Clear Lake United Methodist Church. In lieu of flowers a memorial donations may be made in Betty's memory to Clear Lake United Methodist Church.