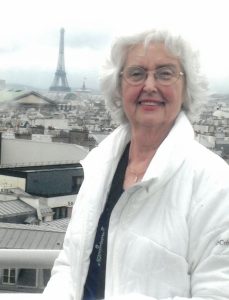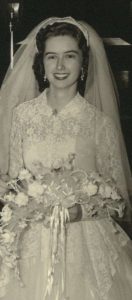 Gloria Lee Crowston, 84, of La Marque passed away on Wednesday, October 27, 2021 in Houston, Texas.  She was born January 15, 1937 in   Galveston, Texas to Bill and Marshall Treadaway.
Gloria was a lifetime resident of La Marque.  She was a graduate of La Marque High School class of 1955, a member of First Baptist Church in La Marque for most of her life.  She worked in the children's nursey for many years also.  She was employed at Carbide Credit Union for several years before going to work and retiring from Johnson Space Center (NASA) in the photographic division which provided many picture perks for the family. She always enjoyed spending time with her family but especially her grandkids and great grandkids. She enjoyed spending time with her friends whether it was cards, bunco, lunch or any else they might conjure up.  She loved the friendship and fellowship that she had with her church family.  She enjoyed trips to the hill country (Bandera) and Lake Sam Rayburn.  You might also see her strolling through a casino in Louisiana from time to time. She was a biological mother to three boys but called Mom, Mrs. C and some would even call out the song title G-L-O-R-I-A by all of the friends of the boys.  She was also referred to as sister and GO-GO by family members.  There were many gatherings at her house which was mostly constructed by her sons and their friends for horseshoes, washers and very possibly a social beverage or two and never disagreeing with the gatherings and her having as much fun if not more as the kids. Gloria also enjoyed a good ole two step or waltz in the dance hall, honky tonk or the front yard for that matter. She put a lot of stock in the poem Footprints in the Sand as we all did.
She is preceded in death by her parents, husband Travis L. Crowston, brothers Bobby and Floyd Treadaway.
She is survived by her three sons; Larry Crowston, Dale Crowston (Mandy) and Troy Crowston (Shannon), honorary daughter-in-law; Linda Crowston and husband Joe Esqueda; granddaughters: Tracy Lynn Perthuis (Bret), Marlesa Morton (Chris) and Kaitlynn Crowston, grandson Colton Crowston and great grandson's Brayden, Ty, Camden, Colson and Brycen and numerous nieces and nephews and her sister Helen Klyng.
A special thanks to her lady friends Carolyn Maxwell and Terry Taylor for all the ways they helped her.  A very special thanks to the tremendous care and help from the Crowston Family support group and the care of the Harbor Hospice folks.
A visitation will be held on Friday, October 29, 2021 from 4:00pm – 7:00pm at the James Crowder Funeral Home, La Marque.  Funeral Service will be at 10:00am on Saturday, October 30, 2021 at the funeral home with Jerry Esmond and Dr. David Smith officiating.  Interment will follow at Galveston Memorial Park Cemetery in Hitchcock, Texas.
Pallbearers will be Colton Crowston, Phillip Folse, Dale Goebel, Darren James, Gil O'Balle and Glen Vyvial.  Honorary pallbearers will be John Folse, Richie Grady, and Richard James.