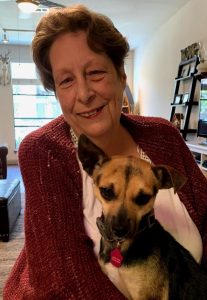 Linda was a loving woman who always desired to help those in need and adored serving the community. She ran the church food pantry, organized and hosted Thanksgiving dinners at church for those who didn't have family to celebrate with during the holiday and spent many years working as a home-hospice caregiver. Her favorite patient, Grant, was a young boy with Autism who ended up being "adopted" into the family. Through the years, Linda would open their home to families, when they needed a place to stay. To say it was a houseful was an understatement.
Linda really liked to visit with others. She enjoyed spending time with the elderly, listening to their stories and then sharing their stories with others. Linda spent recent years connecting with people around the world who grew to cherish her friendship. There wasn't a person who didn't enjoy her company.
Linda was a devoted mother who always put her kids' needs above her own. Being a military wife, Linda held down the fort with her kids, many, many times. Although life threw numerous trials their way, Linda & Robert's 37-year marriage, which formed from a friendship that began when they met at church, proved just how committed they were to each other and their children.
Many would say Linda had a heart of gold. She would give the shirt off her back to anyone in need. She especially had a sincere heart for those who were unable to care for themselves and overwhelming compassion for children with autism. She was very loved and will be missed by many.
Linda was born in Pontiac, Michigan to Betty and John Killen, and her family moved to San Antonio, Texas in her early teenage years. She is survived by her husband, Robert Wyatt, daughter Monique Wyatt (36), son Timothy Wyatt (35), daughter Katie Wyatt (31), and son Thomas Wyatt (28). Preceded in death by, father John Killen, mother Betty Killen, sisters Carol Conger and Peggy Killen, and brothers Ralph Killen and James Killen.
On Monday, September 20, 2021, a service will be held at Crowder Funeral Home (2422 E Broadway St., Pearland, TX 77581) at 11 am followed by a burial at Houston National Cemetery. Reception to follow a Monique's home.
In lieu of flowers, the family requests donations in Linda's honor to Autism Speaks. https://www.autismspeaks.org/                                               https://www.autismspeaks.org/?form=donate