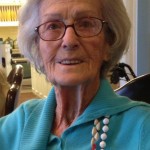 Billie Margaret Hartzog, was born on December 20, 1924 in Drumright, OK, and passed away on July 15, 2014. She was a resident of Pearland, TX for 25 years. She was a charter member of Country Place Gulf Club, a member of Eastern Star and attended the Episcopal Church.
Billie joins her husband, James Benjamin Hartzog and her parents, Emmett and Margaret Mahanney.
She leaves behind her children: James Benjamin "Jim" Hartzog JR. and wife Kathy, William E. "Bill" Hartzog and wife Ellen and Kellie Vaughn; five grandchildren and 10 great grandchildren.
A visitation will be held on Thursday, July 17, 2014 from 6-7 pm at Crowder Funeral Home in Pearland. The graveside service will begin Friday, July 18, 2014 at 1pm at Mission Park Cemetery in San Antonio, TX.