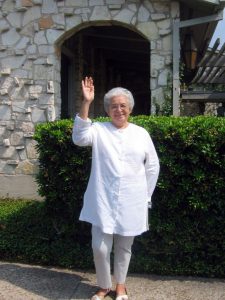 Elvira H. Castro, known affectionately as Billie, was born on December 29, 1930, to Francisco and Antonia Hernandez and she parted this world surrounded by her children, grandchildren, and great-grandchildren on December 10, 2019. She was preceded in death by her loving husband Greg, her parents, brothers Sotero, Ennis, Zeke, and daughter-in-law Gail Castro.
Born in Temple, Texas, Billie moved to Houston where she became a nurse working at St. Joseph's Hospital and playing on the hospital softball team. It was in Houston that she met her husband, Gregory J. Castro after seeing him at church and various local dances. She received her father's blessing to date the man who danced and sang his way into her heart and the two were married in 1955. They immediately started their family, which consisted of five children. Their married life was cut short when Greg died in 1960. She often joked that had he lived, they would have had at least ten kids.
As she embarked upon the next phase of her life, she found her passion in ministry where she spent countless hours providing spiritual direction to those who sought her help. When she wasn't ministering, she was spending time with her children and grandchildren or traveling. Billie had a talent for painting, sewing, and cooking, and ensured that she passed these on to her family by sharing her knowledge with them.
She is survived by son, Gregory J. Castro Jr., daughter RoseAnn and husband Greg Rapp, daughter Elizabeth Rapp, daughter Regina Castro, and daughter MaryAnn Smither; grandchildren Tonya and husband Spence Killian, Deanna and husband Chad Williams, Gerry Hennesee and wife Brenna, Clint Smither and wife Jeni, Frances Rapp, Aaron Smither, Christa Hennessee, Nicole and husband Mick Snow, Lacey and husband Andrew Shields, Hannah Anzaldua, Jacob Rapp and April Bonnard, Billy Kloosterman, and Jeff Kloosterman, and; great grandchildren Jade, Avorie, Ashlyn, Maria, Cade, Andrew, Audrey, Javon, Tinley, Laken, Jackson, Lilyth, Bella, and Sophia, Erika, Daniel, Thomas, Elizabeth, Shelby, Amber, and Arya.
During her eighty-eight years on this earth, Billie shared her love of faith and devotion to God with her family, something that each has carried into their own lives. She will continue to live on in the stories of her family as a loving mother and grandmother who will be missed greatly. Te amo mucho, con todo mi corazón.
Celebration of the life of Elvira "Billie" Castro will be held Saturday, December 14, 2019, at the Shrine of the True Cross  300 FM 517 Rd E, Dickinson, TX, 77539. Visitation and rosary – 10:45am, Mass – 11:30am with the Interment immediately following at Mt Olivet Catholic Cemetery 7801 Gulf Freeway, Dickinson, TX 77539. In lieu of flowers, please donate to the charity of your choice.