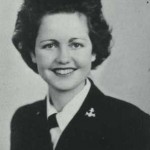 Helen Christena Lindley, 91, longtime resident of Webster, Texas, passed away June 3, 2014. She was born in Yoakum, Texas June 3, 1923 to parents Grady and Ellen Shows. She was a member of the Baptist faith and was a very devoted mother. Helen served in the U.S. Navy during WWII.
She was preceded in death by her husband, Elwood Lindley, daughter, Nancy Hutto.
She is survived by her sons, Ronnie Salles and wife Linda, and Les Salles and wife Elaine; sister, Fay Allison; brothers, Rodger Shows (Alice), Floyd Shows (Barbara), Larry Shows (Gena), and Donnie Shows (Lupe); numerous grandchildren and great-grandchildren; and one great great-grandchild.
A memorial service will be held at 11:00 am on June 9, 2014 at Crowder Funeral Home in Dickinson, Texas.