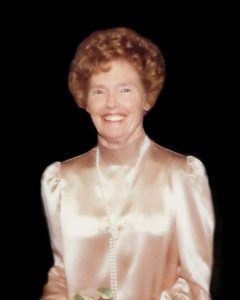 Our beloved wife, mother, and grandmother, Carol Evonne Anderson, passed away on June 29, 2019,
in Houston, Texas. Born in Reklaw, Texas on January 18, 1933 to parents Wade and Marie Reno, Carol quickly found her place in education. As a student at Sam Houston State Teachers College, Carol earned her Bachelor of Arts and Master of Arts in English Literature.
While attending Sam Houston State she met James Byron Anderson (J.B.) at a fraternity social. They
married in 1954 and had two children, Mike in 1955, and Jan in 1957. Carol remained a dedicated wife,
mother, grandmother, and teacher for the entirety of her life and positively influenced countless numbers of people.
Carol's career in teaching began in the Deer Park and Pasadena school districts. Seeking a greater challenge, she moved to teaching at San Jacinto College in Pasadena. She taught all levels of Literature and Composition. Carol most enjoyed teaching Hamlet and Beowulf, and could even speak and read  Middle English. When asked for advice by a friend new to teaching, she replied "never smile at anyone until after Christmas". She remained a professor at San Jacinto College for over thirty years.
In addition to teaching, Carol helped many students outside of San Jacinto with college applications and admission essays, only wishing for their success. She also tutored all her grandchildren, teaching them to write by reading the assigned books and collaborating with them on their papers. Carol never missed an opportunity to use a red pen on a student's paper, but she was respected as an outstanding teacher and mentor who was always honest and fair.
Carol was preceded in death by her son Mike Anderson. She is survived by her husband J. B. Anderson, her daughter Jan and husband Brent, and her grandchildren, Ellen Marie Wilkirson, Michael Bailey, Sam Anderson, and Brynn Anderson. She is also survived by her daughter-in-law Devon Anderson, as well as her niece Charlyn Williams.
Carol's memorial service will be held at 11:00 a.m. on July 9th at Clear Lake Presbyterian Church, 1511 El Dorado Blvd. in Houston, Texas.