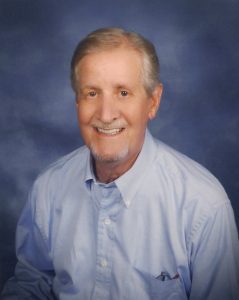 James Leon Cole, Age 85 passed away peacefully in Clear Lake City on Sunday, May 12, 2019.
He was born December 25, 1933 to Leon and Maude Cole in Big Spring, TX. He is preceded in death by his parents and sister, Laverne Chrane. He is survived by his loving wife of 62 years Sandra Cone Cole and his children, James Leon Cole Jr., Cynthia Cole Satter, and Jackson Adam Cole, and his brother and sister-in-law, Eddie and Vicki Cole and several nieces and nephews. He also leaves behind his grandchildren; Jacqueline Satter, Austin Satter, Tara Cole, Tasha Cole, Tyler Cole, Joel Cole, and twin great grandchildren, Baylor and Beckham Satter.
Jim graduated from Big Spring High School in 1952. He immediately volunteered for the US Army, was stationed in Germany supporting the Atomic Cannon project and promoted to Staff Sergeant. Following his honorable discharge from the Army, he enrolled in the University of Texas, where he met his love, Sandra (Sandy). They married in September, 1956 in her hometown of Palestine, TX. East and West met in Central Texas.
He graduated in 1959 with a Bachelor of Science degree in Electrical Engineering. Upon graduation he was hired by Hughes Aircraft Co. and was an engineer in the Flight Avionics and Missile Division, supporting the F-106 (Delta Dart) Interceptor Aircraft Program. In 1963 he joined the NASA Johnson Space Center in the Flight Operations Division working the Gemini, Apollo, Skylab, and Space Shuttle programs. He retired from Government service in 1996 as Division Chief of the Control Center Systems Division.
He loved his NASA work and in 1999, was hired by the European Space Agency (ESA) to upgrade and modernize the Operations Center for Space Station support. He and Sandy moved to Wassenaar, Netherlands where they worked, lived, and travelled throughout Europe.
He retired completely in 2001 in Clear Lake City and he and Sandy spent time touring Europe and enjoying their family in Houston, Austin, and Louisiana.
A service will be held on May 16, 2019 at 2:00pm at Clear Lake United Methodist Church, 16335 El Camino Real, Houston, Texas 77062.