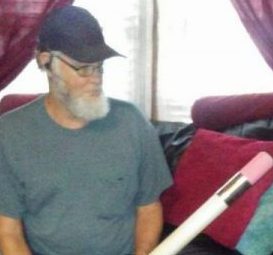 Stephen Henry Hudgens also known as woody, 68, of Pasadena, TX passed away January 04, 2019 in Pasadena, TX. Stephen was born December 05, 1950 in Corpus Christi, TX. Mr. Hudgens was a 37 year resident of Pasadena. He served his country is the U.S. Navy during the Vietnam War, was a member of the Masonic Lodge, former member of the Zion Lutheran Church and the American Legion Post 490. Woody retired after 25 years of service at Memorial Hermann Hospital in Houston as a medical radiographer and had previously worked at St. Luke's Episcopal Hospital in Houston. He loved wood working and was known for his ability to be able to fix anything. As a family tradition he was a "helper" to Santa Claus not only delivering presents to his family but also delivering presents to other children in need.
Mr. Hudgens is preceded in death by his parents William and Janie Hudgens and brother Phillip Lee Hudgens.
Woody is survived by his loving wife of 38 years Linda Ann Hudgens; daughters Andrea Marie Hudgens Mayaka and her husband Patrick and Katherine Nicole Hudgens Sahawatana and her husband Nicholas; and son Stephen Joseph Hudgens; brother David Eugene Hudgens and wife Lisa; sister-in-law Anita Hudgens; second cousin Dorothy Sutton; grandchildren Hezekiah Mayaka, Madison Hudgens, Zachariah Mayaka, Zawadi Mayaka, Stephen Hudgens, Benjamin Hudgens and Elizabeth Sahawatana.
There will be a visitation on Tuesday, family only at 4pm then friends and family from 5pm to 8pm, service will be Wednesday at 11:30 am at Crowder Funeral Home, 2422 E. Broadway St. Pearland, Tx 77581 burial will follow at Houston National Cemetery.
Pallbearers will be Stephen Hudgens, Phillip Hudgens, Patrick Mayaka, Jeremy Lilley, Brian Aronson, and Nicholas Sawatana.
Memorials May be made to Paralized Veterans, Wounded Warrior Project or St. Jude Hospital.