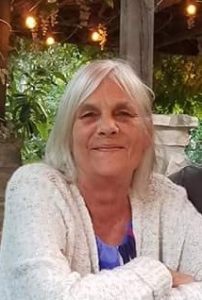 Denise Brooks Wegleitner, 65, of Dickinson, Texas passed away December 29, 2017, in Webster, TX. Denise was born February 14, 1952, in San Diego, California. She was a devoted mother and grandmother.
Denise was preceded in death by her mother, Jeanne Wegleitner.
Denise is survived by her father, Mark Wegleitner; daughters, Amy Krieger and husband Dan, Amber Kuykendall and fiancé Ramiro, and Katherine Mirales and husband Raymond; sons, Marcus Fitzgerald and wife Diane, Thomas Driscoll and wife Sharron, Brian Driscoll, and Philip Driscoll, sisters Karen Wegleitner, and Anna Wegleitner; brothers, Tim Wegleitner, Scott Wegleitner, Steve Wegleitner, and Kevin Wegleitner; eleven grandchildren; and numerous nieces, nephews, and friends.
A private Celebration of Life will be held by the family as Denise wished.