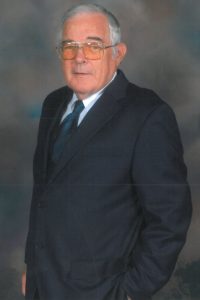 John Henry Hammack, also known as PawPaw, of Pearland, TX passed away November 5, 2017 at home after a long struggle with cancer.  He was 82 years old.
John was born in Natchez, MS on February 12, 1935 to Alice VanDyke Hammack and Myers Eugene Hammack where he attended grade school and high school.  He graduated from Natchez High School in 1953.
Upon graduation John began working for a plumbing company. At the age of 21 he began his career in the oil field at Johnston Testers Oil Company.  It was then he and Sara transferred to Belle Chase, LA.  John worked for McClough Tool Company and Tri-State Oil Tools.   John and Sara transferred to Texas in 1983.  At the age of 62 he retired from Baker Hughes in Pearland, TX.
John was devoted to his wife and family.  He built their home in which he and Sara have resided for the past 31 years.  He was an active member of Sagemont Church and was committed to the Lord.  He spent his time involved in his church and community.  One of his favorite things to do was volunteer at the Pearland Neighborhood Center.  He was loved by all there!  He became friends with everyone he met and always had a smile on his face.
John is survived by his beloved wife of 61 years, Sara Brett Hammack.  John and Sara have three daughters, Vivian Hammack Kuhn (husband Steve), Linda Hammack Hiller and Sharon Hammack Broussard (husband Todd).  John also has 7 grandchildren, 6 great grandchildren.  He is preceded in death by 5 sisters and 3 brothers and is survived by 2 sisters.
The family would like to give special thanks to the many friends and family who showed their love of God and for John this past year.
John's visitation will be Wednesday, November 8th from 6:00pm – 8:00pm at Crowder Funeral Home.  The service celebrating John's life will take place at Crowder Funeral Home at 11:00am on Thursday, November 9th.    Interment will follow at South Park Cemetery in Pearland.  In lieu of flowers, memorials may be made to Helping Hands at Sagemont Church.