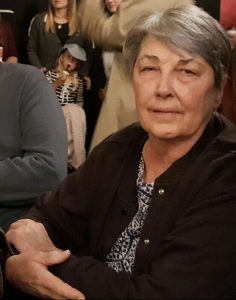 Lillian Charlene Terry, 74, of League City, Texas passed away November 2, 2017. Lillian was born September 4, 1943 to Charles and Dorothy Hallam in Austin, Texas. Lillian worked for the Corps of Engineers as a secretary for many years prior to her retirement. Lillian was preceded in death by her parents and by her beloved husband of 47 years Roger Clifton Terry.
Lillian is survived by her daughters Dorothy Rae Terry-Mikel; sons Michael Kevin Terry, and Jeffrey Paul Terry and wife Kathryn; sister Jane Elizabeth Bean and husband J.D.; cousin, Wayne Ray and wife Glenda; grandchildren, Brianna Taylor Mikel, Hayden Clifton Mikel, Benjamin James Terry, Jessica Brook Terry, Cora Ann Terry, and Weston Eugene Terry; like-a daughter, Karen Josephine Landry; and like-a-son, Michael Anthony Carter and his children Caelob Carter, Caeson Carter and Caedon Carter.
A visitation will be held in her honor 5:00 – 7:00 pm, Tuesday, November 7, 2017, Crowder Funeral Home Chapel, Dickinson, Texas, with a Celebration of Life Service following at 7:00 pm.