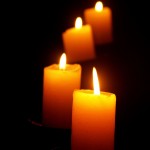 Jane Howell Reeder Titus, 92, longtime resident of Dickinson, TX, passed away July 27, 2017, in Pearland, Texas.  Jane was born in Topeka, Kansas on November 3, 1924, to George S. Reeder and Grace Woodring Reeder.  She attended first grade through last semester of the eighth grade in Topeka.  In 1938, Jane her sister Betty, and her parents relocated to Elmira, New York, where in her freshman year, Jane met her future husband, Jim Titus.  She graduated from Southside High School in 1942.
At the height of World War II, Jane was employed by Bendix Corporation in a top security division producing the "Norton Bomb Sight."  She was one of nine women in the final assembly.  From here each "sight" went directly to a bombardier waiting in the wings.  The Norton Bomb Sight enabled our bombers to carry out precision bombing for the first time in history.  She retained top security, "Q" clearance for many years after the war.  Jim and Jane were married in Elmira, New York, in 1945 after Jim returned from the Pacific serving on tankers with the U.S. Merchant Marines. This began the saga of maritime life for 60 years.  They had two sons, Michael James Titus and Patrick Allen Titus.
They resided in Pine City, New York, until 1967.  With their older son Michael serving in Viet Nam with the Navy, Patrick ready for junior high, and Jim's ship loading Shell oil in Deer Park, it was time to locate to Houston, Texas.  The family resided on Dickinson Bayou, Dickinson, Texas.
Jane was preceded in death by her parents, her husband of sixty years, Captain H. J. (Jim) Titus, sons Michael J. Titus and Patrick A. Titus, grandson Christopher A. Titus and daughter-in-law Debi Titus, sister and brother-in-law Betty and Robert Masia, nephew Robert P. Masia, and great nephew Matthew Smith.  Jane is survived by her nieces Patty Bruner and Linda Smith along with their families.
Jane was a proud member of:
The Daughters of the American Revolution, Sam Houston Chapter 6-15 TX
Order of the Eastern Star, Alert Chapter 648, Elmira Heights, New York
Associate member of the council of American Master Mariners, Houston Chapter
Member and past President of the Weed 'n Wish Garden Club presiding over the transfer of the Historical Railroad Museum Center to the City of Dickinson, TX
Life member of Texas Garden Clubs in District IV
Member of Faith Lutheran Church Dickinson, TX
A graveside service will be held 11:00 am Tuesday, August 1, 2017, at Forest Park East Cemetery, Webster, Texas under the Direction of Crowder Funeral Home, Dickinson, Texas.