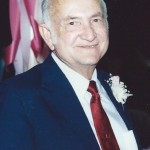 Edwin Jansing Akins, 89, of La Marque, Texas, passed away peacefully at his home on the evening of February 20, 2014. He was born on June 27, 1924 to Harry and Lola Akins in Rosebud, Texas. During World War II, Edwin served his country in the United States Navy and was a member of the 1st Navy Seals "UDT4". Formerly of Rosebud and Franklin, Texas, Edwin moved to La Marque in 1946, where he began work as an Operator for Union Carbide, with 41 years of service to the company. Edwin was a former member of the Mainland Elks Lodge, the Highlands Baptist Church and coached several La Marque Little League teams.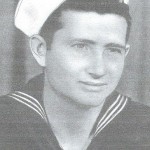 Mr. Akins is preceded in death by his mother and father, and his first wife; Louise Akins. He is survived by, his wife; Elizabeth Ann Akins, his daughter; Debbie Villarreal and husband Roxie of Waco, his son; David Akins and wife Judy of Texas City, his two step-daughters; Nancy Perthuis of Houston and Diana Davenport and husband Dan of Santa Fe, and his step-son; Scott Perthuis and Ann Lambousy of La Marque. Edwin also leaves behind seven grandchildren; Bryan Villarreal, Mark Villarreal, Michael Akins, Aaron Akins, Emily Harman, Travis Perthuis and Traven Perthuis, and twelve great-grandchildren.
Visitation will be held Monday, February 24, 2014 from 5:00pm to 8:00pm at the James Crowder Funeral Home. A funeral service will be held on Tuesday, February 25, 2014 at 10:00am at the First United Methodist Church of La Marque, 1825 Howell Street, La Marque with Rev. Bryan Villarreal officiating. Interment will follow at Galveston Memorial Park Cemetery in Hitchcock, Texas.
Honored to serve as pallbearers will be Bryan Villarreal, Mark Villarreal, Michael Akins, Aaron Akins, Colby Akins, Travis Perthius and Traven Perthius. Honorary pallbearers will be Clifford Burks, Sr. Cliff Burks, Jr. Larry Burks, Jack Wilson, Wayne Sparks, Don Roark and John Wallen.
The family wishes to thank hospice nurse Joni LeRibeus and hospice aid Eric Agyeman.
Ed was a very loving, caring and wonderful husband, father, grandfather and friend. He will be deeply missed by all who knew and loved him.