Carolyn Sue "Bootsie" Main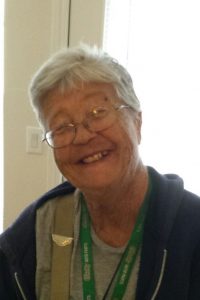 Carolyn Sue "Bootsie" Main, age 74, passed away peacefully on Sunday, April 30, 2017 in Webster, Texas with loved ones by her side.
She was born on September 25, 1942, in Galveston, Texas to Woodie and Evelyn Bennett and graduated from Ball High School in 1961.
Sue was a long-time resident of Galveston and most recently resided in Santa Fe.  She worked at Galveston Independent School District as a school bus driver and at Wal-Mart as a door greeter.  She loved to fish, cook, tell jokes and most importantly, spend time with her family.
She is preceded in death by her parents and infant sister, Dorothy Evelyn.
Sue is survived by her sister, Margie A. Hill and husband, James; Her three children and their families:  daughter, Jill D. Jahn and husband, Harry (J.J.); daughter, Karen D. Anderson and husband, James (Andy); and son, Kenneth Travis Main and wife, Brooke.  She is blessed to have eight grandchildren:  Adam Anderson, Mandy Anderson, Emily Anderson, Erin Anderson, Allison Main, Courtlyn Main, Ashlyn Main and Braden Main; and numerous nieces, nephews, and friends, especially long-time friend, Ellen Pack, of Indiana.
The family would like to thank Dr. Ramirez and the staff of the ICU Unit of Clear Lake Regional Hospital for their compassionate care.
Visitation will be held on Wednesday, May 3, 2017, from 6:00 p.m. to 8:00 p.m. at Crowder Funeral Home in Dickinson, Texas with funeral services at 10:00 a.m., Thursday, May 4, 2017.  Interment will follow at Galveston Memorial Cemetery in Hitchcock, Texas.
Honored to serve as pallbearers are:  Ronald J. Hill, Harry (J.J.) Jahn, James (Andy) Anderson, Jason D. Jones, Adam J. Anderson and Michael J. Slack.