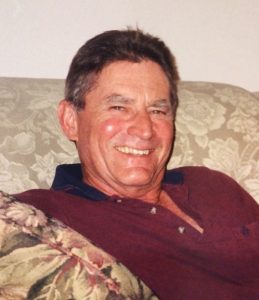 John Harris Brothers, 73, of Alvin, TX, passed away April 3, 2017, in Houston, TX.  John was born August 5, 1943, to Helen and Jesse Brothers in Mercedes, TX.  He was the owner of Intercoastal Sales for many years and a loyal member of First United Methodist Church of Dickinson. John had many hobbies over his years which included 20 plus year career as a high school football referee and was an avid hunter who loved being outdoors. He also loved spending time with his family watching them grow. His biggest passion was being outdoors on his farm tending to the many animals that he cared for with his wife Myrna.
John was one of the founding partners of Intercoastal Sales created in 1978, eventually becoming the sole owner. Over the years, he created a prosperous family run business that continues today.
John was preceded in death by his parents.
John is survived by his beloved wife of 25 years, Myrna Brothers; daughters Robin Little and husband Toby, and Holly Herncall and husband Britt; son John Brothers and wife Shannon; step-daughter Roberta Dannar; sisters Joy Denny and husband Jack and Brenda Hooks and husband Barner; brothers Alan Brothers and wife Maryann and Ray Brothers and wife Kitty; fifteen grandchildren; seven great-grandchildren; and numerous nieces, nephews, and friends.
A visitation in his honor will be held 5:00 – 7:00 pm, Thursday, April 6, 2017, Crowder Funeral Home Chapel, Dickinson, TX with funeral services 10:00 am Friday, April 7, 2017, First United Methodist Church, Dickinson, TX.  Graveside services will be 1:00 pm, Saturday, April 8, 2017, Stranger Cemetery, Marlin, TX.
In lieu of flowers the family request donation to M.D. Anderson Cancer Center at gifts.mdanderson.org or First United Methodist Church, 200 FM 517 Rd. W., Dickinson, TX 77539.