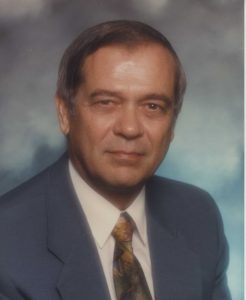 Our father, Kenneth Lee Pierce, born August 12, 1938, passed away on December 24, 2022. Dad was born in Dallas, Texas to the late Dr. Lee Compton Pierce and Fotula Boozalis Pierce. He was the eldest of three, his brother Michael John who survives him and his late sister Melinda Sue Pierce.
As his father was a minister, dad moved around a lot while growing up. He learned to adapt by participating in Chess Clubs, playing the Clarinet in the school band and joining Boy Scouts where he became an Eagle Scout and a member of the Order of the Arrow. After graduating from Tyler High School, he went to TCU where he joined R.O.T.C, Kappa Sigma and the TCU Vigilantes. Upon graduating from TCU in 1960 with a Bachelor of Arts Degree in Mathematics, he joined the Army where he became a part of the Artillery Branch and earned the rank of 1st Lieutenant. Following his active service, he joined the Army Reserves in Oklahoma and earned the Rank of Captain before retiring from the service in 1968. In 1962, Dad began working at The Federal Aviation Agency (FAA) Headquarters in Oklahoma City. From there he moved the family to Houston, TX in 1966, to start a career at NASA-JSC Mission Control as a Computer Analyst. While helping to launch the space program, Dad was actively involved in the Boy Scouts by serving as a Scout Master and Leader, during which he established new troops, such as Troop 952, in Clear Lake Forest and developed a District Training Program. He was also active in the Christian Church serving as an Elder and head of various committees. Dad was full of life and passionate about things he loved such as rooting for his TCU Horned Frogs, playing Tennis, scuba diving and listening to music. When Dad retired from NASA, he started traveling and seeing different parts of the USA and Europe. He was an amazing photographer and would take many beautiful pictures of the places he visited. In recent years, dad loved working in his yard and visiting with friends and family.
You may be gone from our sight, but you will never be gone from our hearts.  We love you Dad, your daughters, Laurel Anne Pierce Morrow and Sheryl Lynn Pierce Brown and son Stephen Lee Pierce, their spouses (James Scott Morrow, Rick Derek Brown and Dianna Karolina Kondratowitch-Pierce) and your six grandchildren and four great-grandchildren.
A memorial service honoring his life will take place at a later date.