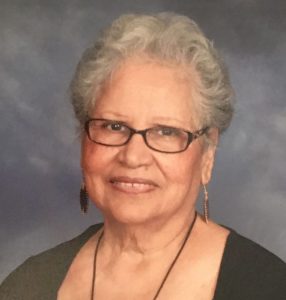 Aurora Aguilera Jaramillo, 77, of Dickinson, passed away April 21, 2023 in League City.  Aurora was born September 26, 1945, to Blasa and Julian Aguilera.  She was a loyal member of Shrine of the True Cross Catholic Church, and she and her husband enjoyed the Traveling seniors and the senior center. Aurora will be remembered as a kind, loving wife, mother, sister, grandmother, and great-grandmother.
She was preceded in death by her parents, sisters Oralia Zavala, Blasa Rosa, Angela Vargas and husband Carlos, Serafina Delgado and husband Juan, and Criselda Reyna, brothers Julian Aguilera and wife Columba, and Victor Aguilera, and brothers-in-law Raul Arrazola, and Roberto Mejia.
She leaves behind to cherish her memories her beloved husband of 60 years, Pedro Jaramillo; daughters Dalia Jaramillo, Aurora Amaro and husband Nicolas, and Otilo Jaramillo; sons Ernesto Jaramillo and wife Amanda, and Antonio Jaramillo and wife Monica; sisters Guadalupe Arrazola, Hermilinda Rodriguez and husband Jorge, Elisa Rodriguez and husband Candelario, Isabel Mejia, Rosalinda Garica and husband Renato: brother Desiderio Aguilera and wife Amelia; sister-in-law Lydia Aguilera; brothers-in-law Guadalupe Zavala, and Juan Rosas; grandchildren James Davis, Tiffany Davis, Nicolas Amaro, Erika Amaro, Esmeralda Jaramillo, Emily Jaramillo, and Carlos Jaramillo; great-granddaughter Aubrey Davis; grand-dog Tessie; and numerous nieces, nephews, and friends.
In her honor there will be a visitation 5:00 – 7:00 pm, Tuesday, April 26, 2023, with a rosary at 7:00, at Crowder Funeral Home Chapel, Dickinson.  A funeral mass will be held 10:30 am, Wednesday, April 26, 2023 at Shrine of True Cross Catholic Church, Dickinson. Father Larry Wilson officiating. Interment will follow at Mt. Olivet Catholic Cemetery.
Honored to serve as pall bearers are Nicolas G. Amaro, Nicolas M. Amaro, Jesus Lara, Peter Arrazola, Manuel Arrazola, and Albert Arrazola. Honorary pall bearer will be Carlos Jaramillo.