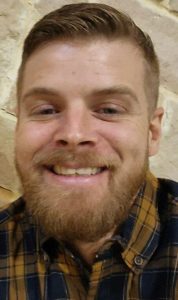 Zackary David Mason, 32, who resided in Spring, Texas, passed away from this life on April 11, 2023. Zackary was born October 12, 1990 in Galveston, Texas.
Zackary leaves behind to cherish his memory, his loving partner, Yalisse Fariza, his mother Teresa McCray, father David Mason, sons Brent Mason, Colin Mason, Connor Mason, daughter Ava Grace Mason, sisters Zoe Beers, Emily Mason, and Ashley Mason, uncles Roger McCray, Tony Lopez Jr., Chris Beers, his aunts Taron Stepanski, Ashley Beers, Sherry Benton and Lori Dominy, the loving supportive Dominy family, many dear cousins, countless childhood, and close friends he had made along his journey through life. Zackary is preceded in death by his Grandmothers Tami O'Steen, Barbara Johnson and Grandfather Dale McCray
Zackary was a shining star and an irreplaceable piece of so many hearts. He loved fiercely and could easily be said to have been overprotective of those he loved especially Zoe and his Mother.  He needed to know their every move and always wanted to make sure they were safe.
Zackary loved the Lord and had a personal relationship with him. He leaned on the Lord during many of the hard times throughout his life.
Zackary was a devoted father and loved making memories and bringing joy into his children's lives. Every moment was priceless to him with his children.
It was well known that Zackary was the biggest Mama's boy and was proud to let others know.  He loved for his Mother to cook for him and didn't care if she had worked all day. He loved plants and learning the secrets of a green thumb from his Mother. Zackary loved to eat and became his own grill master, perfecting his famous ribs!  Zackary loved to be outside nurturing his plants, basting in the sunshine, and fishing for flounder which his Pappy taught him how to do at a young age.
Zackary loved taking photos of nature and pictures of the moon. He would watch every full moon with Yalisse.  He loved his dog Hank Willliams Jr, which was his best friend.   Zackary would repeatedly share his most favorite memorable trip to Puerto Rico with Yalisse and her father Robert Fariza to visit their family. He would tell the story of how terrified of flying he was and Yalisse had to hold his hand the whole way.
He loved helping the homeless, donating clothes and food to help whoever was in need.  Zackary has touched so many people and he didn't even know it, he will forever be in our memories and in our hearts.
A Celebration of Life and reception will be held at the Magnolia Creek Clubhouse at 3:00 on Friday, April 21, 2023, at 4751 West League City Parkway, League City, TX. 77573