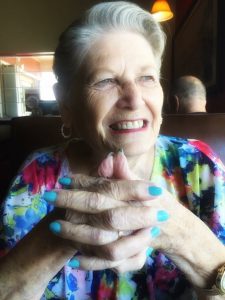 Yvette Ivy McCain passed away on February 4, 2019 in Cypress, Texas at the age of 81. Yvette was born in Galveston, Texas on July 10, 1937 to Martin and Katherine Anderson. She lived most of her life in Dickinson, Texas, where she raised a loving family and was happily married for over 60 years.
She was preceded in death by her husband, James Robert McCain, Sr. and son Martin Duane McCain.
Yvette is survived by her daughter, Valarie Symons & husband, Randall; daughter, Melody Patelis; son, James "Robby" McCain and wife Karen; eight grandchildren: Shawn Patrick, Andrea Joy, Zackary Robert, Christos Spyros, Phaedon Anthony, Sabrina Virginia, Dustin Duane, Sheena Marie, and ten great grandchildren.
Memorial Services will be held on Saturday, February 9, 2019 at 11 a.m. at Crowder Funeral Home in Dickinson, Texas with a visitation to be held prior to the service starting at 10 a.m.