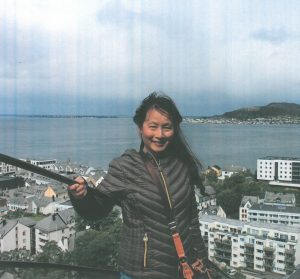 Ying "Jenny" Jiang, loving wife and mother, passed away at age of 63 on July 2nd, 2021.
Ying was born in Nanjing, China. In childhood, she had a big brother whom she always looked up to, cemented by the day when she had gotten lost and he had found the way home. In her teens, she spent a few memorable years on a farm, where she enjoyed the bliss of a simple life while surrounded by all sorts of animals. Shortly after graduating from college, she began teaching mathematics to university students, who often appeared older because she appeared younger throughout her life.
Then in 1993, in search of an adventure, Ying migrated to the United States in pursuit of graduate studies, earning a master degree in mathematics and eventually finding her calling as a computer programmer. In a world where who you want to be and who society molds you to be is often different – Ying always found the strength to stay true to herself, always being kind and thoughtful toward others. Besides being dedicated at work, Ying enjoyed spending time with family, playing cards with friends, playing ping pong, watching movies, reading books, and tending to a beautiful garden that was her sanctuary.
In her battle with cancer, Ying endured with resilience, grace, and dignity, helping the rest of us cope with her conditions, before peacefully succumbing to life's inevitable ending. In her passing, she leaves behind a husband and a son, who miss her dearly and are reminded of her in the best things that life has to offer.