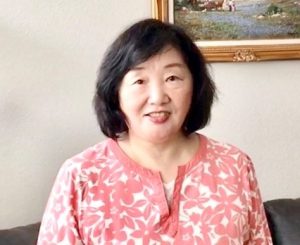 YaFen (Lucia) Gao, age 67 years, is survived by one brother and two sisters: ZheMing Gao (YaFen Yu), YaPing Gao (XiMing Chen), YaLi Gao (YongBing Gao) and her only child, a daughter, Juan Josephine Gong La Brake (Marcelino La Brake) and her four grandchildren Regina, Carolyn, John, and Angela. As well as many nieces and nephews. She is preceded in death by her parents, ZhenQuan Gao, QiaoZhen Sun and three siblings.
Lucia enjoyed life with a childlike personality and a walk to the park or taking rides to the mall were simple pleasures that she loved to share with her grandchildren. Lucia also enjoyed good food and as such perfected her cooking skills in the kitchen, often times competing for counter space with her son-in-law. Lucia ensured that she had the best ingredients for her dishes by cultivating the fresh garden vegetables needed which led to another pleasure of spending time in the outdoors. Riding her bike to the gym with a spontaneous stop at the market on her way home was also routine and gave her an opportunity to share some fresh fruits with her grandchildren. Besides her culinary skills, Lucia was a talented seamstress and was often requested to make special items such as wedding dresses and suit jackets. Of course, she ensured her own daughter was taken care of on her wedding day by making a special wedding gown for her as well. After her daughter married, Lucia became a devoted grandma and shared the lives with her daughter's family in New Mexico, Florida and finally in Texas. In addition to her own grandchildren Lucia enjoyed taking care of other babies and serving as God's instrument welcoming new souls. Most recently Lucia spent a lot of time as a caregiver for those with terminal illnesses. Lucia was loved by those who knew and worked with her. Her caring and simple nature will be missed by those whose lives she touched.
Lucia converted to the Catholic Faith in 2008 after she came to the United States from China in 2007. She had a strong devotion to the Blessed Virgin Mary and was diligent in saying her daily Rosary. Lucia was fortified by the sacraments of Holy Mother Church through the support of Queen of Angels Catholic Church in Dickinson, TX. Family is asking everyone to continue praying for the repose of Lucia's soul and may she Rest in Peace.
Visitation is at Crowder Funeral Home on Monday, October 3rd, from 5pm – 7pm with Rosary at 7pm. A requiem High Mass will be held on Tuesday, October 4th, at 10 am at Queen of Angels Catholic Church in Dickinson, TX officiated by Fr. Adam Purdy, followed by burial at Mt. Olivet Catholic Cemetery. In lieu of flowers, family would appreciate a donation to Queen of Angels Catholic Church & Academy in Dickinson, TX.
The family would like to thank the Hospice Care Team lead by Dr Suzanne McClure for their services that demonstrated compassion and kindness.
Honored to serve as pallbearers are Vincent Blackwood, Peter Huynh, Lois LaSala, Juan Masters, Bobby Murphy and Huijing Qiang.