Wynona "Nonie" Mae Jetelina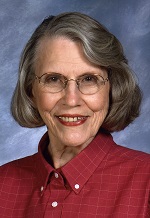 Wynona "Nonie" Mae Jetelina, age 92, peacefully passed away the evening of Saturday September 12, 2020 at The Crossings Nursing Home in League City, TX.
Nonie was the daughter of the late Lawrence and Bertha Young of Weimar and later East Bernard, TX. Nonie was the fifth child of six children.
Nonie was born on January 6, 1928 in Weimar, Texas. She attended school in a one room schoolhouse in Borden, TX until the third grade and then completed her education in East Bernard, TX.
Nonie was a resident of Santa Fe (formerly Alta Loma), TX since 1963. Before moving to Santa Fe, she resided in Texas City, TX. She was married to her beloved husband Jerry A. Jetelina for twenty-seven (27) years before he passed away from cancer in July of 1985.
Nonie was a former member of the Santa Fe TOPS Club Chapter 1237. She was a dedicated member of the Santa Fe Family Community Education Club (formerly known as the Santa Fe Extension Homemakers Club), which she joined in 1986.
She was also a longtime member of the Aldersgate United Methodist Church of Santa Fe, the United Methodist Women's Lydia Circle and the American Association of Retired Persons Chapter 1314 also of Santa Fe.
Nonie is survived by her two sons, Jay Jetelina of Dickinson, TX and David Jetelina of Nassau Bay, TX, her sole surviving sister Maxie Husband of Bakersfield, CA. and numerous nieces and nephews.
She is preceded in death by her sisters Evelyn Beckendorf of Giddings, TX, Blanche Harness of Martinez, CA and brothers George Young and Lloyd Young of East Bernard, TX and her very dear and special friend June Curry of Santa Fe.
Funeral Services will be conducted by Crowder Funeral Home on FM 517 in Dickinson, TX. The Reverend Paul Meiller, Pastor of the Aldersgate United Methodist of Santa Fe will officiate the memorial service, which will be held on Friday September 18th at Crowder Funeral Home in Dickinson on FM 517. Visitation starts at 1PM, services at 2PM. Burial will immediately follow at the Forest Park East Cemetery on I-45 in League City.
Nonie was a devout Christian lady and was loved by all who knew her. She never said an unkind word about anyone and she would go out of her way to help her friends and to serve her church. She will be deeply missed by everyone.
She had a family to love her
And friends to see her through
But best of all God's promises
She had all of this, and now, heaven, too!
In Lieu of Flowers, donations may be made to HIS Ministries, 4205 Jackson, Rd., Santa Fe, TX, 77517.