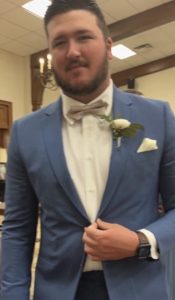 Wyatt Ray Denson, 24 of Needville, TX. died in a tragic accident in Scurry County, Texas on Friday, August 19, 2022. He was born May 27, 1998 in Georgetown, Texas to Shawn Ray Denson and Wendy Austin Zavala.
Wyatt graduated from Needville High School in 2016 and attended Sam Houston State University.  He was a proud member of Phi Delta Theta Fraternity. Wyatt held many certifications and was currently working in the renewable energy industry.
Wyatt was a stranger to no one. His infectious smile and big, warm hugs will be greatly missed by all those who were blessed to know and love him.
He is survived by his mother Wendy Zavala and step-father Robert, father Shawn Denson and step-mother Tanya, grandparents; Gene and Kathy Austin and Donny and Sandra Denson, brother RJ Denson (Caitlin), step siblings; Jennifer Dunlop (Remy), Mikaila Deleon (Joseph), Indyannah Deleon, Trina Zavala (Eli), Triton Zavala, Amethist Zavala, Tiffani Gray (Ben), Dalton Wheat, Mason Wheat, Garth Wheat (Holy), and Garrett Wheat, aunts and uncles; Elizabeth Blackburn (Bren), Cheryl Aucoin (Joe), Shelly Coldiron (Adam), Devin Martinez (Tony), Dallas Denson and Kristen Denson, nieces and nephews; Kaitlyn, Cami, Logan, Adriel, Brayden, Mila, Gavin, Elenore, Jaycen, Dania, Athena, Harper, Max, Aurora, Colson, Eddie, and cousins; Kathryn, Bren Thomas (Sydnee), Joseph, Luke, Mary Clare, Olivia, Taylor, Chase, Erin, Lindsey, Seth, Jacob, Mackenzie, Sydney, Dawson, Katie, Kelsee, Dakota, Kasen and Abel. He is survived by numerous other cousins and friends that he called family.
He was preceded in death by his cousin Dylan Fojtasek; aunt Deborah Hales; aunt Becky Sauntry-Miller; uncle Bill Denson; uncle Kelley Denson; and great grandmothers Claudia Denson and Eleanor Edwards.
A visitation will be on Friday, September 2, 2022 from 5:00pm – 8:00pm at the chapel of the James Crowder Funeral Home, La Marque.  Funeral service will be at 10:00am on Saturday, September 3, 2022 at St. Mary of the Miraculous Medal Catholic Church in Texas City with Father Clint Ressler officiating.  Interment will follow at Mt. Olivet Catholic Cemetery in Dickinson.
Pallbearers will be RJ Denson, Chase Vinson, Luke Blackburn, Jacob Huntley, Keith Drown, Kendrick Scott, Tanner Wagner, and Derek Maciejeski. Honorary pallbearers are Adriel Torres, Ryan Garza, and Mike Zapata.
In Lieu of flowers donations can be made to the following:
Wyatt Denson Memorial Scholarship
https://phideltatheta.org/donate/
Must select "Texas Pi – Sam Houston State University" under the "Select your Chapter" drop down menu. This scholarship is being set up and the Texas chapter -Phi Delta Sam Houston State will be administering the scholarship
Donations for St. Michael's Student Scholarship Fund, in memory of Wyatt Denson.
Mail donations to P.O. Box 95 Needville, TX 77461
Any questions call 979-793-4477