Willie Mae "Billie" Martin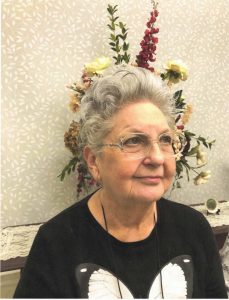 Willie Mae "Billie" Martin, 81, passed away on August 3, 2020 in League City, Texas. She was a devoted Christian with preferences to Southern Baptist. She was born on July 21, 1939 in Palestine, Texas. She was predeceased by her loving parents Chester Lunt and Mildred Aaron Lunt, her sister Carolyn, and by her husband Jerry L. Martin Sr. She is survived by her sister Peggy Jo Lunt Bostick, Bill Bostick, and her sons: Jerry Lawson Martin Jr. and wife Brenda, Allen Ray Martin and wife Lily, and David Arnold Martin and wife Angelica; grandchildren: Katrina Martin, Arnold Martin, Jessica Martin, Rebecca Martin Sands-Wable, Keith Allen Martin, Rayna Ann Martin, Tylea Adrianna Martin, Daphne Alexis Martin,  David Alexander Martin and numerous great grandchildren, nieces and nephews. Billie graduated Magna Cum Laude and was a member of Phi Theta Kappa National Honor Fraternity.  She received the Trinity Valley Community College Award of Academic Excellence with a 4.0 GPA.  She then served on a Advisory Committee from 1990-1991 and continued her career with Trinity Valley Community College where she worked for many years. Billie dedicated her life to her family, playing the piano at her church, and worship of our Lord Jesus Christ.
The Family will receive friends on Saturday, August 8, 2020 at 9:00am with a Ceremony at 10:00am at Crowder Funeral Home, 1645 East Main, League City, Texas 77573.
Due to the COVID 19 public gathering restrictions, Crowder Funeral Home requires all visitors to wear a mask and maintain a social distance of six feet from attendees. Maximum occupancy is 50 guests. Please maintain a social distance during the visitation and while seated in the chapel. Thank you for your cooperation and understanding.