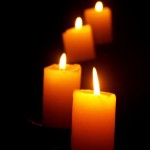 William Franklin Smith, 75, a resident of League City, Texas passed away February 26, 2016
unexpectedly at his home. William was born on July 26, 1940 to proud parents Jared and Thelma
Smith in Texas City, Texas. He served his country in the U S Navy during the Vietnam Era and went on to pursue marine electronics and radar communications. He retired from the military after twenty years of service.
He spent many years at Radio Shack in various locations.
William was preceded in death by his parents, and his brother, Jared O. Smith. William is survived by his loving wife, Patricia A. Gerald Smith; a daughter, Melissa Kyle; and a son, Steven Smith; and one grandson, Milo Kyle; and one granddaughter, Annina Pellegrinelli – Smith.
A visitation will be held at Crowder Funeral Chapel on Wednesday, March 2, 2016 from 9:00 – 10:00 am
with a funeral service following at 10:00am.
A private interment will be held at Houston National Cemetery in Houston, Texas.
In lieu of flowers, memorial donations may be made to the League City United Methodist Church Building Fund.