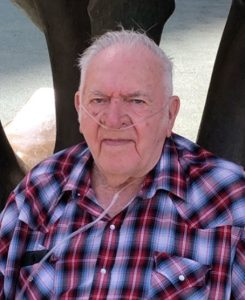 William Franklin Hinson (84) of Texas City, Texas, passed away peacefully on Sunday, March 19, 2023. He was born in Wells, Texas on June 2, 1938 to Reba and Woodrow Hinson.
William proudly served in the United States Navy and fought in the Korean War. He worked for the City of Texas City as a heavy equipment operator until retirement and was a member of the First Baptist Church of Texas City. William was very involved in the Texas City Little League; he enjoyed coaching his two sons and was the League Official for several years. He loved John Wayne, fishing and spending time with his boys. He will be dearly missed.
William is preceded in death by his mother and father, and wife; Martha (Ginger) Hinson. He is survived by his sons; Mark Hinson and Mike Hinson, and sisters; Carolyn Borski and Loretta Heartless.
A visitation will be held on Tuesday, March 21, 2023 from 5:00pm – 8:00pm at the James Crowder Funeral Home in La Marque. A graveside service will be held on Wednesday, March 22, 2023 at 1:00pm at Forest Park East Cemetery in Webster, Texas with Dennis Johns, Pastor of First Baptist Church in Texas City officiating.
Pallbearers will be Ronnie Springer, Richard Brooks, James Bertolino, Landon Bertolino, Parker Lewis and Bailey Bertolino.