William ("Bill") Henry Westall, III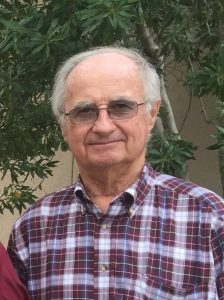 William ("Bill") Henry Westall, III, 84, of San Leon, passed away on October 1 in Houston.
He was born on August 4, 1939, to William H. Westall, Jr. and Mary Madeline Jones in El Monte, CA.
Bill grew up in California between the towns of Los Angeles, San Francisco, and Fresno along with his older brother Jim, and graduated from high school in 1958. In 1960, he married Constance ("Connie") Adele Boyer and had three sons over the next eight years:  Christopher, David, and Eric.
Bill earned an Associate Degree in Business from Fresno City College in 1960 and a Bachelor of Science Degree in Business Administration from Fresno State College in 1963. He would years later go on to earn a Master of Business Administration Degree from the University of Houston at Clear Lake in 1986.
His work life began in the field of labor relations with his first job as an assistant director for the Agricultural Labor Bureau in Fresno. This would prove to be an essential training ground for his future career in labor relations. He was then hired by the west coast-based company NL Industries where after only two years he was promoted to chief negotiator for labor relations for their biggest division (Baroid), located in Houston. So, with three boys, aged 6-10, the family set off to begin their new life in Texas in 1974.
By 1975, Bill was a single father raising three young boys (exceedingly uncommon in Texas in the mid-70s), which forced him to adeptly balance- on his own- the two most important things in his life: family and career.
He would succeed greatly at both. As his career flourished, he raised the boys to do well in school while encouraging them to be involved in many different pursuits from baseball, tennis and soccer to motocross and BMX racing. And the motocross racing the boys enjoyed was itself an outgrowth from his own decade-long success as a rally car driver and navigator in California and Texas, with many awards and championships in the late 60s and early 70s.
But he would be tested in the 80s, when economic circumstances resulted in his position being eliminated. This would be the first of several reinventions of himself that he had to endure. This time, with few solid prospects, he decided to go back to school and further his skill set. Thus, while holding down tentative full-time employment at the time, he was able to obtain an MBA in 1986.
By 1994, it was time once again to reinvent himself and take a giant step. This time it was a job offer in Lagos, Nigeria requiring relocating and living as an expatriate on another continent. After a successful ten-year stint in Nigeria (which included surviving a kidnapping extortion plot), he returned stateside and continued a successful core sampling business that he ran well past the age of 80… which was an incredible feat unto itself.  He finally decided to retire officially in 2021 at the age of 82.
Bill was a true renaissance man- highly knowledgeable and skilled in a vast array of fields and he led an extremely full and busy life outside of his family and career.  He was extremely determined to stay busy throughout his life, which he did at an incredible level. Here are just a few examples:
He was an avid sailor for years which culminated in a month-long sail from Texas to Florida in the Gulf of Mexico in 1993.
He designed and built a one-of-a-kind 40'x80' metal building that was ¼ living residence, ¼ woodshop, and ½ auto shop with 20ft ceiling and a car lift- the ultimate man cave.
He built or restored many cars, some of which were multi-time award-winners at various car shows:

1932 Blue Ford Coupe
1965 Teal VW Bus
1977 Gold Datsun 280Z
1978 Black Datsun 280Z (V8JUSE)

He also purchased and showed a beautiful 1997 blue with white stripes Dodge Viper
He was a master woodworker creating many, many items for himself and family over the years including bedroom furniture, cabinets, toy chests, children's toys, snowboards, lap steel guitars and much more.
He also built a beautiful, customized cabinet to house the family's beloved 700+ vintage beer can collection.
Bill is survived by his three sons and their families:  Chris and wife Joni of La Grange; David and wife Cara of Cypress; and Eric and wife Domineque of Seabrook. He is survived by eight grandchildren: Cameron, Reed (and fiancée Rachel), Jenna (and fiancée Zach), Marissa (and husband Alex), Macey (and fiancée Alex), Jace, Harper and Owen.
He was preceded in death by his parents William Westall and Mary Morgan, and by his brother James Westall.
Funeral services will be held on Thursday, October 5, 2023, at noon at Crowder Funeral Home in Dickinson, Texas. A graveside service will be held immediately after at San Leon cemetery followed by a celebration of life at Bill's shop in San Leon.