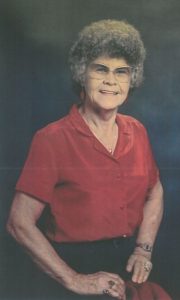 Violet Marie Floyd, 95, passed away on November 3, 2018.  Violet was born April 29, 1923 in Puxico, MO. She was a resident of Friendswood, TX for forty two years and retired from Hancock Fabric in Clearlake after forty years of service.
Violet is preceded in death by her parents, Joseph and Grace Shaw; sisters: Rita Poncetta, Juanita Shaw and Irene Johnson; brothers: Virgil Shaw and Vernon Shaw.
She leaves behind her daughters: Lorretta Sanders and Martile Stepenson, husband Gary; grandchildren: Steven Glenn, Michele Crouch, James Sanders, wife Kara, Marcus Stephenson and Jennifer Stephenson; great grandchildren: Caleigh Crouch, Makennah Sanders, Cloe Crouch, Cameron Crouch, Chase Kett and Brittany Stephenson; numerous nieces and nephews.
In life we loved you dearly. In death we love you still. In our hearts we hold a place that only you can fill. For as long as there is memory you are no more than a thought apart. It broke our hearts to lose you. But you didn't go alone. A part of us went with you the day God took you home.