Viola Lyles Ponzio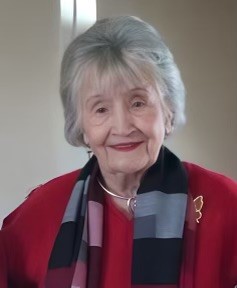 Viola Lyles Ponzio, "Grammy" passed away on December 26, 2022, in her home in Houston, Texas, at the age of 96. She was born on May 5, 1926, in Balmorhea, Texas to Robert F. Lyles and Lucy Dutchover Lyles, both deceased.
Viola was a beloved wife, mother, grandmother, great grandmother, friend and a devoted member of her church, League City Kingdom Hall as a Jehovah Witness.  She grew up as a farm girl in Balmorhea, Texas in a family with six siblings and two hard working farming parents. She married Frank Ponzio in 1947 and moved to the El Paso area.  She was a stay-at-home mother to her two daughters. In 1968, she and her family moved to the Houston area living in Galveston for many years before relocating to League City in 2005. While she loved her family deeply, her love for being a member of her church and faith was a driving force in her life and focus.  Her family and her Kingdom Hall congregations in Pasadena, Galveston and League City were prominent in her heart. Without question, family and faith were her dual priorities throughout her life. She will be dearly missed by all those whose lives she touched.
Viola was preceded in death by her husband, Frank Ponzio, parents, Robert F. Lyles and Lucy Lyles, five siblings, Ben Lyles, Dedrick Lyles, Robert Lyles Jr., Valda Orosco, Edith Lyles and son in law Ruben Sanchez Jr.
She is survived by her sister, Ella "Johnnye" Lyles, her daughters, Myra Ponzio Long (Joseph) Cindy Ponzio Sanchez. Also, grandsons Jay Sanchez (Lisa), Mario Lopez, Joaquin Lopez and Ryan Sanchez (Malory).  Great grandchildren Paige Parra Newton (Juan), Savannah Sanchez (Garrison), Linden, Vincent, Larkin Lopez and Gianna and Mila Sanchez.
A Celebration of Life will be held at 2pm for Viola, at the Crowder Funeral Home in League City at 1645 East Main St. League City, TX 77573, on Saturday January 14, 2023.
Viola will be buried at the Houston National Cemetery located at 10410 Veteran Memorial Dr., Houston, Tx 77038  at a later date.
To view service online please click on the link below: