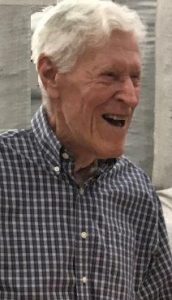 Vin, Sadly passed away peacefully, on December the 19, 2017 at home in Seabrook, TX. He was born in Durban, South Africa, to his parents George and Silvia Ward, on August 31st 1921.
He grew up in Bulawayo, Southern Rhodesia, the oldest of 5 children. He often assisted his father in various ways to help support the family. Anything from selling chickens door to door, to, selling hotdogs and coffee outside the cinema, to, driving his dads Taxi's at the age of 12.
He had a huge passion for Motorcycles and owned as many as 18 as a young man before being conscripted by the British to fight in WW2.
In 1988 he was instrumental in founding Techemet USA, to which he dedicated the rest of his life. His efforts help grow it into an international company, and world leader in its field.
He was a very passionate and charitable man.
Vincent is survived by his Wife Anne of 68 years, 4 children, 11grandchildren, and 4 great grandchildren.