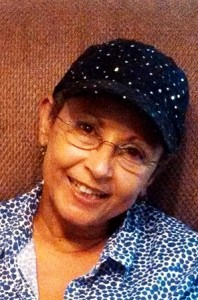 Vicki Lynn Mayo, 62, of Brookshire, TX; formerly of Iowa Colony, TX, was welcomed into the arms of Jesus on February 20, 2016 at Saint Luke's Hospital in Houston, TX after succumbing to complications from liver disease.
Vicki was born in Canton, Ohio on January 26, 1954 to Lino Perez and Pauline Perez (nee. McKell). She was married to Paul "Stormy" Mayo on August 26, 1976. They were married for 39 years. She met Stormy when he was making a house call at her mother's house to fix some electrical problems and they have been together ever since.
She was primarily a homemaker, but she worked various jobs throughout the years, including a being public school bus driver, dry cleaner, Wal-Mart employee, and a secretary/receptionist.
She enjoyed cooking; she was known for her Thanksgiving dressing, peach cobbler, and especially her lasagna. She could decorate on a dime with a flair for bargains. She was a thrift store fashionista; wearing sparkly hats and matching bling. She was a talented artist, accomplished seamstress, and enjoyed volunteering at church and tinkering in her garden. She also loved cheering for the Houston Texans. She was a faithful member of several churches throughout the years. She loved the Lord and prayed voraciously for her family and friends.
Vicki is preceded in death by her father, Lino Perez, and her aunts, Carmen Perez and Otilia Perez.
Vicki is survived by her husband, Paul "Stormy" Mayo; step-daughters: Alicia Pierce and husband Terry, Melissa Jacobus and husband John; sons: Ronnie Baggett and wife Kimberley, Cole Mayo and wife Lisa; 10 grandchildren and 6 great-grandchildren; mother, Pauline Hicks; sisters: Carol Sparkman, Cathy Jordan, Linda Phillips and husband Keith; brothers: Paul Lino Perez and Jarrell Sparkman; brother-in-laws: Mark Chaney and wife Phyllis, Tim Chaney and wife Verna; sister-in-laws: Brenda Jacks and husband Joe, Boneta Strickland and husband Jerry; and many nieces and nephews.
A visitation will be held Friday, February 26, 2016 from 5:00 to 8:00 pm for family and friends at Crowder Funeral Home in Pearland, TX. Funeral service will be at 11:00 am on Saturday, February 27, 2016 at Biker Church in Manvel, TX. Burial to follow at Greenlawn Memorial Park in Rosenberg, TX.
The family of Vicki Mayo wishes to thank the friends and churches who have loved and supported us in this difficult time and the hundreds of people who prayed for and encouraged her via the "Pray for Vicki Mayo" Facebook page.
Memorials: Please make any memorial donations in honor of Vicki to The First Baptist Church of Lillian, TX and/or Biker Church in Manvel, TX. Also, you are encouraged to become an organ donor in honor of Vicki.