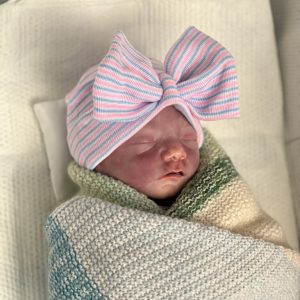 On October 1, 2023, Veronica Rose Cruz, beloved baby daughter born to Josue Cruz and Catherine Warrington Cruz, left this world to be with her Eternal Father in Heaven.
Her memory is cherished by her parents, her big brother Joshua, her grandparents Doug and Mary Warrington, her grandmother Paula Velazquez Cruz, and many loving aunts, uncles, and cousins.
Veronica joins her grandpa Lidio Cruz and her great Grandma and Paw-Paw Gately, who have preceded her in Eternal Life.
There will be a visitation on Friday, October 6, 2023 at 10:00am at the Crowder Funeral Home Chapel in Dickinson, Texas. A graveside service will follow at 11:30am at Mt. Olivet Catholic Cemetery, also in Dickinson, Texas.