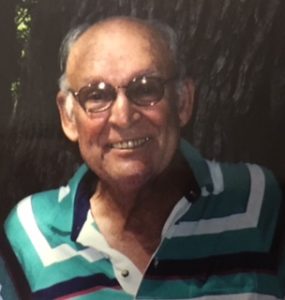 Mr. Vaughn Argalous Gibson , 80, passed away November 21, 2016 in Pearland, TX. Mr. Gibson was born July 28, 1936 in Huntington, TX to Vaughn and Lois Gibson Sr.
He honorably served his country during the Korean Conflict in The U.S Air Force. Mr. Gibson was a Pearland resident for 40 years and was a member of Berachah Church. Mr. Gibson worked for Union Pacific as a railroad engineer, and retired after serving 33 years of employment.
He is preceded in death by his parents.
Mr. Gibson leaves behind to cherish his memories his wife of 46 years, Libby Gibson; daughters, Shirley Robinson and Julie Hughes and her husband Jason; grandchildren, Conner Robinson, Christian Robinson and Elijah Hughes; cousin, Laverne Schulz and her husband Bill, brother in law, John Osburn and his wife Delores.
A memorial service will be held on Friday, December 2, 2016 at 11am at Berachah Church, 2815 Sage Rd, Houston, TX 77056. Burial of ashes to follow at the Houston National Cemetery.
In lieu of flowers contributions may be made to: Berachah Church, 2815 Sage Rd, Houston, TX 77056.