Valencia Violet Marie Tamez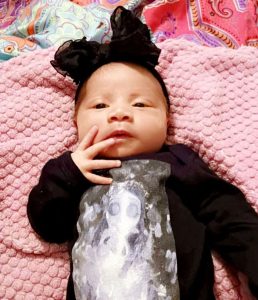 Valencia Violet Marie Tamez was named after her great grandma Violet Marie Castano. She was just a month old when she left this world so unexpectedly Sunday, November 27, 2022 at home, in Texas City, TX.  She was born on October 18, 2022,
weighing 7lbs 4ozs and 19in long, in Clear Lake, TX.  Valencia was born to Cecilia Marie Castano and Martin Torres Tamez.
Valencia was greeted with a huge hug and a red lip imprint from her Gigi also known as Grandma Julie Marie Castano Boaz. She is also preceded in death by Great Grandma's Oralia Suarez, Cecilia Davila. Great Grandpa's Edward A. Castano Jr., Carlos E. Tamez, Jose Davila. Great Uncle Wayne Cantrell and Cousin Danny R. Tamez. She is survived by her parents Cecilia M. Castano, Martin T. Tamez. Sibling's Noah Edward Castano, Milanni Julie Marie Tamez, Legend Lennox Tamez. Half sibling's Vida Tamez, Soccoro Tamez, Martin Tamez Jr. Grandparent's Daniel W. Castano Sr., Dianna Tamez, Lisa Tamez. Great Grandma's Violet Marie Castano, Soccoro Tamez. Uncle Daniel W. Castano Jr and Wife Courtney Corfield. Aunt Cathy M. Cantrell-Wall. Great Aunt's Debra Cantrell, Rachel McCamy and husband Vaughn McCamy, Margarita Santistevan, and husband BJ Santistevan, Josie Trevino. Great Uncle's Buck Castano, Cousin's Zach, and Zane Wall, Kenna, and Daniel W. Castano lll. Also numerous other relatives.
How quietly you tiptoed into our world, almost silently, only for a moment you stayed… but what an imprint your footprints have left upon our hearts.
A visitation will be held on Wednesday, December 7, 2022 at 10:00AM with a service to follow at 11:00AM at the James Crowder Funeral Home Chapel in La Marque, TX.  Interment to follow at Galveston Memorial Park Cemetery with Deacon John Carrillo officiating the services.